Video: Molecular imaging in six dimensions
S. Himmelstein | January 09, 2023
Taking a cue from the design of the James Webb Space Telescope, researchers from Washington University in St. Louis, Missouri, designed a multi-view reflector microscope with mirror segments to sort and collect light on the microscopic scale. The technology facilitates the imaging of the 3D positions and 3D orientations of single molecules.
The radially and azimuthally polarized multi-view reflector harnesses as much light as possible to amplify different features of tiny, fluorescent molecules attached to proteins and cell membranes. Such precise imaging with available microscopic tools relies more heavily on computer processing to sort out orientation after an image has been captured, and standard microscopes do not detect a molecule's orientation. In contrast, the new system detailed in Nature Photonics uses polarization optics called waveplates and pyramid-shaped mirrors to separate light into eight channels, each of which represents a different aspect of a molecule's position and orientation.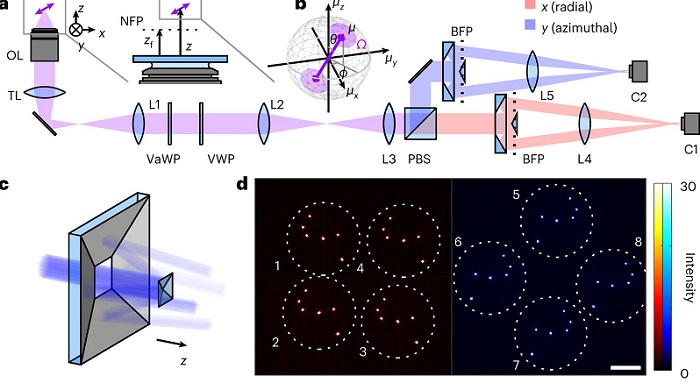 Schematic of the radially and azimuthally polarized multi-view reflector microscope. Source: Nature Photonics (2022). DOI: 10.1038/s41566-022-01116-6
The multi-view reflector microscope was demonstrated to achieve 6D super-resolution imaging of Nile red stain molecules transiently bound to lipid-coated spheres.