Ford Tests Autonomous Vehicles on Snowy Roads
Engineering360 News Desk | January 15, 2016
Ford is conducting what it says is one of the automotive industry's first autonomous vehicle tests in snow-covered environments.
"It's one thing for a car to drive itself in perfect weather," says Jim McBride, Ford technical leader for autonomous vehicles. "It's quite another to do so when the car's sensors can't see the road because it's covered in snow."
Ford's winter weather testing is taking place in Michigan, including at Mcity—a 32-acre, full-scale simulated real-world urban environment at the University of Michigan.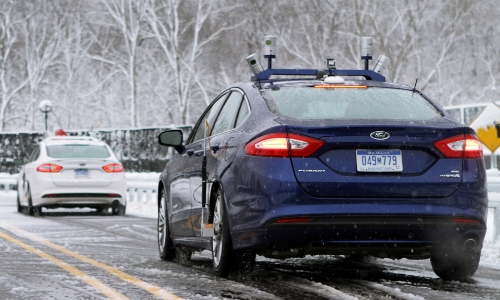 Ford is carrying out winter weather testing of autonomous cars. Image credit: Ford.To date, the automaker's autonomous vehicles have relied on LiDAR sensors, which emit short pulses of laser light to scan the surrounding environment and create a real-time, high-definition 3D image of whatever is around it. But on snow-covered roads or in high-density traffic, LiDAR and other sensors can't see the road. This is also true when the sensor lens is covered by snow, grime or debris.
To navigate snowy roads, Ford is equipping its vehicles with high-resolution 3D maps— complete with information about the road and what's above it, including road markings, signs, geography, landmarks and topography.
"Maps developed by other companies don't always work in snow-covered landscapes," says Ryan Eustice, associate professor at the University of Michigan's college of engineering. "The maps we created with Ford contain useful information about the 3D environment around the car, allowing the vehicle to localize even with a blanket of snow covering the ground."
An autonomous vehicle creates the maps while driving the test environment in favorable weather, with technologies automatically annotating features like traffic signs, trees and buildings. When the vehicle can't see the ground, it detects above-ground landmarks to pinpoint itself on the map and then uses the map to navigate.
"The vehicle's normal safety systems, like electronic stability control and traction control, which often are used on slippery winter roads, work in unison with the autonomous driving software," says McBride. "We eventually want our autonomous vehicles to detect deteriorating conditions, decide whether it's safe to keep driving and, if so, for how long."
Separately, Ford says it is tripling its fully autonomous development fleet to 30 vehicles, which are being tested on roads and test tracks in California, Arizona and Michigan—giving the company one of the largest autonomous vehicle fleets in the industry.