Watch this robot climb walls, ceilings using magnetized feet
Marie Donlon | December 29, 2022
Researchers from the Korea Advanced Institute of Science and Technology and the University of Illinois at Urbana-Champaign have jointly developed a robot capable of climbing the walls and ceilings of metal structures and buildings.
Dubbed MARVEL, the quadruped robot can reportedly walk straight up walls and across ceilings thanks to its magnetized feet.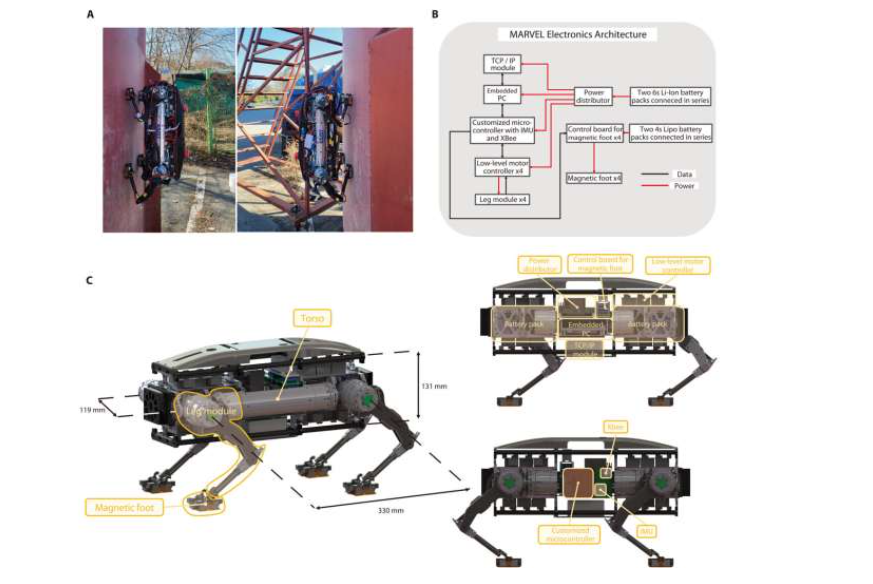 MARVEL description. (A) MARVEL clinging to a steel storage tank. (B) MARVEL electronic architecture. (C) Mechanical and electronic components of MARVEL. Source: Science Robotics (2022). DOI: 10.1126/scirobotics.add1017
The quadruped is able to do this using a combination of both magnetic elastomers and electro-magnets, which together enable the robot's feet to magnetize and demagnetize on demand. According to the researchers, the robot can cling to a vertical spot on a wall using a single foot, holding on as the other feet adhere by turning the magnetism on and off. To take steps, the robot reportedly lets go with one foot at a time.
After programming the quadruped to enable it to initiate a climb and then move around or over obstacles, the team found that the robot could successfully climb metal walls and walk across ceilings in their test lab.
Further, MARVEL climbed over spots that featured no metal and moved around obstacles. Likewise, the quadruped could carry an up to 3 kg payload and move at variable speeds with a top speed of 0.7/ms.
The researchers are eyeing the quadruped for maintenance tasks on bridges, oil tanks and some metal buildings.
An article detailing the research, titled Agile and versatile climbing on ferromagnetic surfaces with a quadrupedal robot, appears in the journal Science Robotics.
For more information on the quadruped, watch the accompanying video that appears courtesy of Korea Advanced Institute of Science and Technology.