Extech introduces its new temperature and humidity data logger
Engineering360 News Desk | January 10, 2023
Extech 42280A, the new temperature and humidity data logger, features several enhancements over the company's legacy model, ensuring higher performance and capability levels in indoor environmental monitoring applications. The meter will help any company looking to monitor the air quality of their production area, for example.
A follow-up to the 42280 series, the new 42280A features the same triple LCD display that shows the temperature, humidity and date/time clock simultaneously. Further the new model also introduces several added-value functions, including the capability to generate PDF reports or Excel spreadsheets when plugging the device (via integral USB interface) into a Windows-based PC after data logging.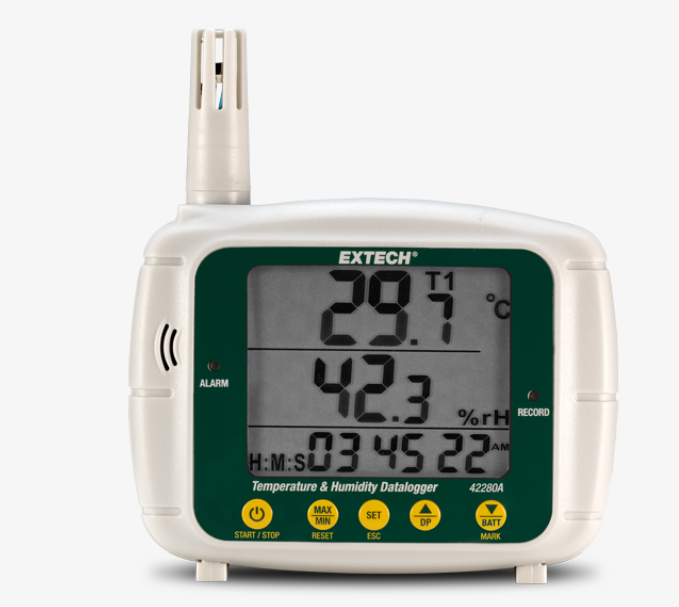 Another enhancement to the device is an increase in internal memory to 48,000 points/readings, three times more than the previous model, for extended monitoring or monitoring at high frequency rates. The Extech 42280A also features a Max/Min mode and the presence of Hi/Lo indication on-screen. Here, the programmable/selectable data sampling rate ensures visual and audible alarm indication in association with Hi/Lo limits.
The new Extech 42280A also includes a 'mark' function that enables users to read out the memory contents starting from a defined time without reprogramming the log. Additionally, data remains secure within the logger at all times and can be password-protected if required.
Extech is also releasing its new 42280A-NIST version. This model includes calibration traceable to NIST standards for indoor environments where it is necessary to demonstrate accurate and reliable measurements, supported by calibration reports that users can download to a PC.
Critical components of any indoor environmental monitoring system, both the 42280A and 42280A-NIST meters offer a temperature range from -20° C to 70° C and a humidity range from 0 to 100%. The devices measure 120.7 mm x 88.9 mm x 38.1 mm and weigh 163 g. Users can choose from wall, desktop or tripod mounts.