GEA presents efficient solution for high heating temperatures with the new RedGenium heat pump
Diana Aoun | December 05, 2022
The new GEA RedGenium heat pump now facilitates even higher temperatures, has an enhanced capacity range and features best-in-class efficiencies at lower total costs. Coupled with GEA's latest reciprocating compressor model — namely the GEA Grasso V XHP series — the GEA RedGenium is now suited for a wider variety of industries and an even more diverse set of applications that demand greater capacity and temperatures up to 95° C (203° F). These include applications in the food, beverage and dairy industries. This temperature level also meets the criteria for space heating, district and local heating networks.
The brand-new GEA Grasso V XHP reciprocating compressor series features four super-efficient sizes. They provide twice the capacity of the existing types and a maximum supply temperature of 95° C (203° F) making the GEA RedGenium the only standard reciprocating heat pump to reach this temperature level. The series is fit for combined refrigeration and heating applications as well as for heating only using low-temperature heat sources, from cold environments for example.
Alternatively, all GEA RedGenium heat pumps can be equipped with a cascade evaporator, directly charged with hot ammonia gas from a refrigeration plant, to efficiently recover waste heat.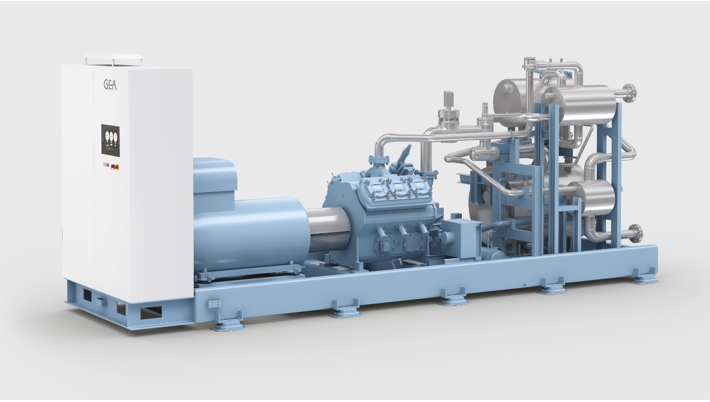 Source: GEA
Additional features of the GEA RedGenium heat pump include:
Natural refrigerant ammonia (R717), in accordance with the F-gas regulation
Heating capacity range of approximately 200 kW to 1,800 kW
Fully welded shell and plate heat exchanger
Various plate materials available, with all common liquids supported
Efficiency-optimized configuration with minimized energy costs and carbon dioxide emissions
Minimum footprint, comes in one piece, unit ready for connection, easy installation, minimum maintenance
Stepless capacity control via frequency inverter (variable speed range 500 rpm to 1,500 rpm) and cylinder switch-off
Industry-leading control technology with GEA Omni control panel