Automating air leak detection on trains
Marie Donlon | November 25, 2022
Researchers from Southwest Research Institute (SwRI) have developed a system for autonomously detecting compressed air leaks on trains — from sources ranging from air brakes and valve actuation to horns and bells and radiator shutters — and communicating their location to mechanical personnel.
With estimates suggesting that the rail industry loses roughly 2% to 3% vehicle efficiency due to such air leaks, thereby increasing fuel consumption and wear on parts, the SwRI team suggests that the new technology could reduce the costs and labor associated with manually locating and repairing air leaks. Likewise, the technology is expected to lower the rail industry's fuel consumption and exhaust emissions while also reducing the risk on personnel performing dangerous manual inspections.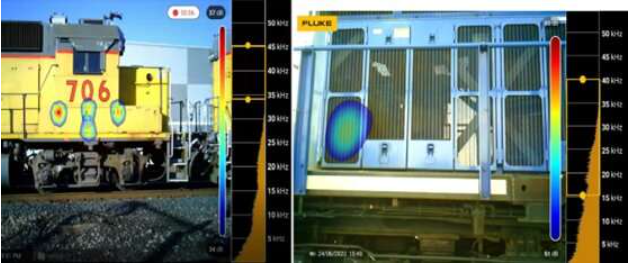 SwRI developed an automated compressed air leak detection system that can acoustically and visually detect and report air leaks on moving trains, indicated by spectral signatures in the photos. The team tested the proof-of-concept system on rail cars and trains at SwRI's Locomotive Technology Center in San Antonio. Source: Southwest Research Institute
To accomplish this, the new system uses audio detection technology, machine learning and cameras to autonomously detect air leaks. The researchers used a commercially available Fluke SV600 fixed acoustic imager featuring a 64-microphone array and camera capable of detecting frequencies of 30 kHz to 45 kHz — frequencies at which compressed air leaks are distinguishable from background noise. Further, the system also relies on a secondary visual spectrum camera.
To enable the system to autonomously detect air leaks, the SwRI team trained machine learning algorithms to distinguish air leaks from non-leak data as obtained from the sensor outputs.
The researchers reported during testing that the system successfully detected 11 out of every 13 leaks on a moving train. Following the identification of leaks, the system electronically sent an alert along with an image of the leak's location electronically, showing mechanical personnel where the train is in need of inspection and repairs.
The SwRI team presented their findings — "Autonomous Detection of Compressed Air Leaks on Trains" — at the 2022 Rail Supply Institute's Expo & Technical Conference recently held in Fort Worth, Texas, during the Locomotive Maintenance Officers Association's annual program.