Watch: SwRI creates system capable of detecting crude oil on water
Marie Donlon | July 14, 2020
Researchers from a nonprofit R&D organization have devised a method for detecting crude oil on water.
Using thermal and visible cameras, a team from the Southwest Research Institute (SwRI) has developed a system dubbed the Smart Leak Detection on Water (SLED-W) system, which detects and monitors oil leaks before they threaten coastal areas and other bodies of water.
Affixed to aircraft, watercraft or stationary devices, the thermal and visible cameras capture data about the waters surrounding oil pipelines, capturing both the visual and thermal characteristics of oil on water from a variety of perspectives. That data is then processed by algorithms trained by oil and gas experts on the different properties of oil, for instance behaviors such as spreading over water versus blending with the water.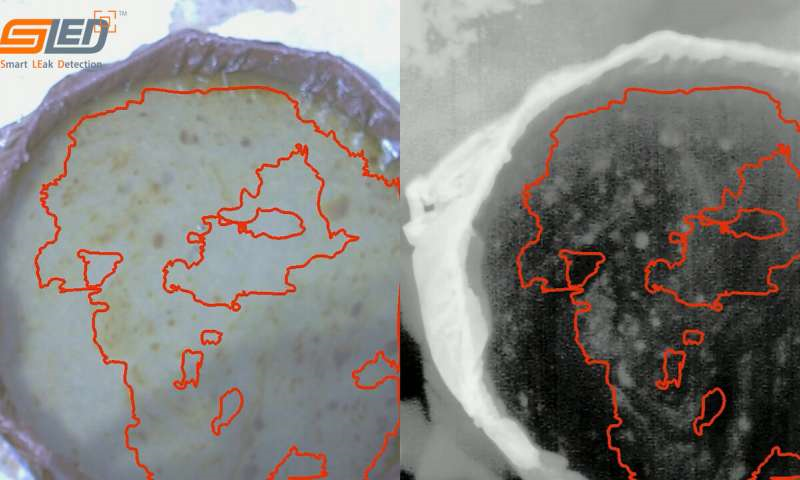 This image depicts the SLED-W machine vision system processing visual images of oil on water (left) and thermal data (right). Source: Southwest Research Institute
According to the system's developers, the combination of visible and thermal cameras improves the detection results of the cameras used independently. Visible cameras experience glare and struggle with capturing transparent thin oils blending with water while thermal vision cameras fail to distinguish features without heat differences, which results in false positives in the presence of animals or other warm objects.
Current methods for leak detection, including satellite remote sensing and laser spectroscopy, for instance, are often expensive and time intensive. As such, the SwRI team intends to conduct field tests for training the algorithms and equipping aircraft with SLED-W technology to cull data under real-world scenarios.
For more information on the SLED-W, watch the accompanying video that appears courtesy of SwRI.