Laundry-folding robot one step closer to reality
Marie Donlon | October 31, 2022
A team from Carnegie Mellon University's Robotics Institute is inching closer to developing a robot that can help with tasks in the laundry room via tactile sensing.
ReSkin is an open-source touch-sensing "skin" composed of a thin, elastic polymer featuring magnetic particles for measuring three-axis tactile signals. According to its developers, ReSkin enables robots to feel layers of cloth instead of relying on its vision sensors to see them.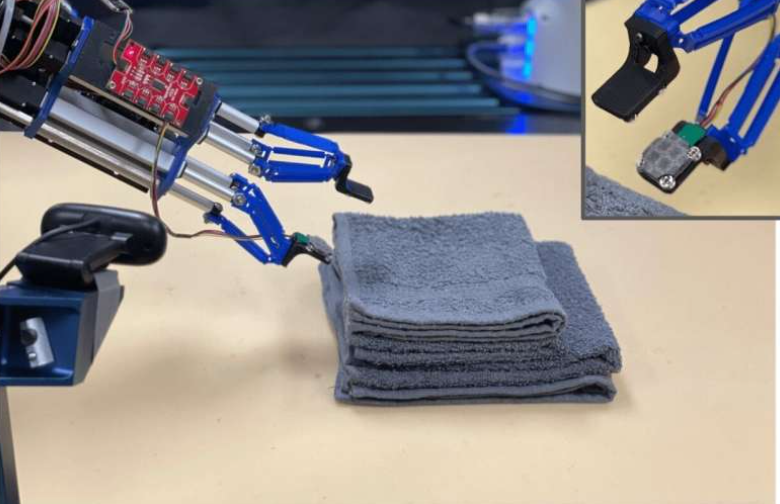 Source: Carnegie Mellon University
"By reading the changes in the magnetic fields from depressions or movement of the skin, we can achieve tactile sensing," explained the Carnegie team. "We can use this tactile sensing to determine how many layers of cloth we've picked up by pinching with the sensor."
While previous studies have used tactile sensing to grasp rigid objects, cloth is deformable, changing when it is handled, thereby making the task difficult. However, researchers determined that changing the robot's grasp on the cloth alters both its pose and the sensor readings.
Instead of teaching the robot how and where to grasp the fabric, the Carnegie team taught the robot how many layers of fabric the robot was grasping by estimating the number of layers in its grasp using the sensors in ReSkin, and adjusting the grip to try again. The team observed the robot picking up one and two layers of cloth and then used different textures and colors of cloth to exhibit generalization beyond the training data.
What enabled the robot to learn how to handle delicate layers of cloth was the thinness and flexibility of the ReSkin sensor.
"The profile of this sensor is so small, we were able to do this very fine task, inserting it between cloth layers, which we can't do with other sensors, particularly optical-based sensors," the researchers explained. "We were able to put it to use to do tasks that were not achievable before."
The research paper, Learning to Singulate Cloth Layers Using Tactile Feedback, will be presented at the 2022 International Conference on Intelligent Robots and Systems, held Oct. 23 to Oct. 27 in Kyoto, Japan.
For more information on the research, watch the accompanying video that appears courtesy of Carnegie Mellon University.