Video: New materials make for quieter, safer EVs
S. Himmelstein | October 26, 2022
Quieter and safer electric vehicles (EVs) will soon be on the road, thanks to new materials developed by Ascend Performance Materials.
A flame-retardant nylon 66 withstands exposure to 1,100° C direct flame for 15 minutes, surpassing standard flame-retardant materials and aluminum tested in accordance with SAE AS5127, a test originally designed for aerospace applications. Starflam X-Protect replaces high-heat thermoplastics and thermoset applications, and the polyamide maintain its integrity during thermal runaway and electrical arcs.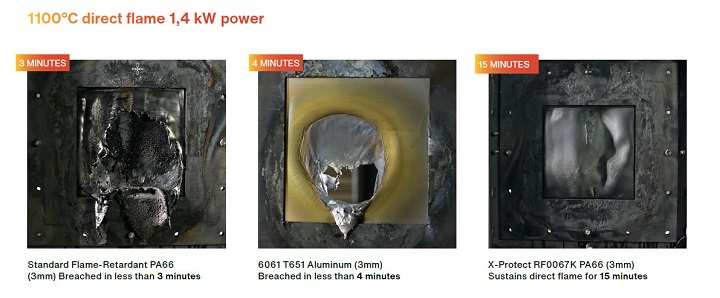 Source: Ascend Performance Materials
A second polyamide has been engineered to dampen noise, vibration and harshness in EVs, which produce vibrations at 10 times the frequency of internal combustion engine vehicles. Vydyne AVS is effective at damping high-frequency vibrations from noise sources such as motors and compressors, which translates into an 80% reduction in cabin sound pressure. The material has been incorporated into the Cadillac LYRIQ as an electric AC compressor mounting bracket and serves to damp that component's vibrations at the source while providing structural support.