DIGISTOR introduces secure solid-state data storage with cryptographic modules for government applications
Engineering360 News Desk | November 03, 2022
DIGISTOR, a CRU Data Security Group (CDSG) company, has introduced its pre-boot authentication (PBA) to the company's line of secure DIGISTOR Citadel self-encrypting data (SED) storage drives.
The secure data storage drives are for developing secure data at rest (DAR) storage solutions in commercial and other government applications that must protect against ransomware and other cyber threats.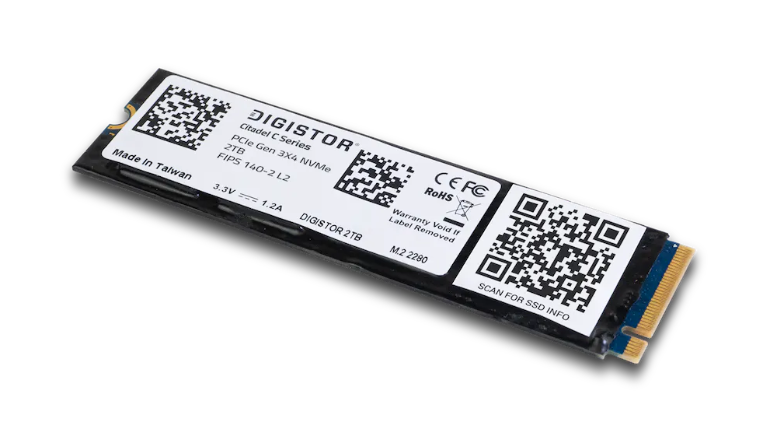 DIGISTOR
DIGISTOR has also announced that the Citadel C series Advanced version has been listed by NIST as a FIPS 140-2 L2-certified data storage device with National Institute of Standards and Technology (NIST) certificate #4294.
This certification is an additional assurance that DIGISTOR C series Advanced SEDs have been tested and validated by the U.S. government for information security in the devices' cryptographic modules.
Pre-boot authentication requires that a computer user provide trusted credentials to the drive before the laptop or desktop computer can detect and boot. This prevents unauthorized users from accessing the encrypted drive and its sensitive data.
Citadel C series solid-state drives (SSDs) offer additional cyber security functions such as multi-factor authentication (MFA), zero-trust file access, unreadable storage partitions protected by non-recoverable keys, automated threat response that renders data invisible if Cigent Data Defense is disabled, and secure access logs that capture all insider threat activity.
Citadel C series SSDs are built on DIGISTOR TCG Opal or FIPS 140-2 L2/Common Criteria self-encrypting drives. The drives will be available in standard M.2 NVMe and SATA form factors and 2.5-inch SATA form factors, for laptop computers, desktops and tactical servers.
For more information, visit the DIGISTOR website.