World's most compact Ethernet/IP encoder
Engineering360 News Desk | September 08, 2022
Wachendorff is expanding its range of Ethernet-based encoders: Encoders with the EtherNet/IP protocol are now available, including the most compact in the world: the WDGA58F. Wachendorff's R&D team has succeeded in minimizing the sensor to an installation depth of just 46.5 mm.
The encoders are certified by the ODVA. The resolution in single and multi-turn can be individually configured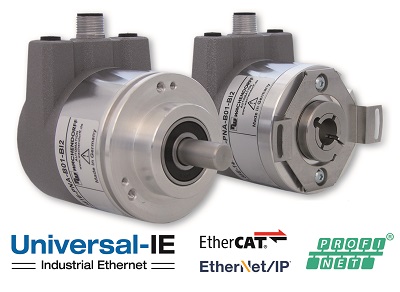 Source: Wachendorff via an integrated web server (single-turn 16 bit, multi-turn 43 bit).
The very high environmental data (e.g. temperature range from -40° C up to 85° C, shock 1,000 m/s² or vibration 50 m/s² at 10 Hz to 2,000 Hz) allow use in harsh industrial environments as well as in mobile working machines. The devices with hollow end shafts eliminate the need for additional couplings and those with shafts guarantee a long-lasting and stable connection with their very high bearing loads of up to 400 N.
In the Universal Industrial Ethernet version, it is possible to switch between Ethernet/IP, EtherCat and PROFINET. This noticeably reduces storage costs and increases flexibility.