New Interroll Helical Modular Chute provides optimum use of space
Engineering360 News Desk | August 30, 2022
With the new Helical Modular Chute (HMC), Interroll provides a simple and easy solution for vertical transport in confined spaces. With a durable and robust steel construction, this product serves a wide range of material handling applications for the retail and e-commerce, warehousing and distribution as well as courier, express and parcel sectors.
Flexibility and space savings are highly desired key features in material handling: during manufacturing, warehousing and distribution, goods with wide varieties of quantities, sizes, weights and packaging (i.e. for cartons, boxes or bags) have to be moved. An important performance factor is therefore to be prepared for the most diverse material flow requirements. For cases in which goods regularly also have to be moved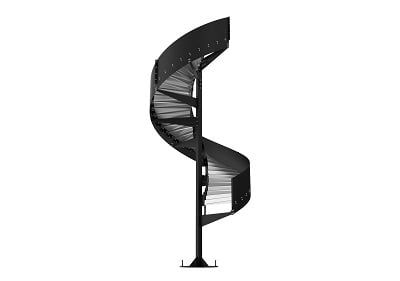 Source: Interroll downward, a chute that is as flexible as possible and that works vertically is essential. One distinctive characteristic of the HMC is its extremely small footprint, guaranteeing optimum use of the space even in the case of retrofit projects.

Proven reliability and energy-saving operation

Developed by the Center of Excellence for Belt Curves in Canon City, Colorado, the HMC has been tested in continuous operation under the highest performance demands, with the focus on maximum efficiency, operational reliability as well as a very long service life. As a full gravity solution, no power is required.

With the available conveying widths of 700 mm, 900 mm, 1,100 mm and 1,250 mm, a decline angle between 18° and 26°, an entry slide width of 2.5 m maximum as well as an arc angle range between 90° and 1,800°, the MHC offers optimum flexibility.
The HMC is delivered unassembled for installation. For more safety and smooth transitions, entry and exit slides are available upon request. It is immediately available in the Americas and will be available globally at the beginning of next year.