KSB Group's future-proof diaphragm valves for drinking water
Diana Aoun | September 08, 2022
KSB Group's SISTO Armaturen S.A. has launched the SISTO-16RGAMaXX diaphragm valve type series, featuring threaded sockets, a stainless-steel body and a special drinking water diaphragm.
The valve body is made of a specific stainless-steel class 1.4409, a material that is particularly resistant to chlorinated water and suitable for drinking water. The valve's design without dead volumes ensures optimum conditions for high-purity fluids and prevents deposits. Nominal sizes range from Rp 1/2 inch to 3 inches (DN 15 to 80).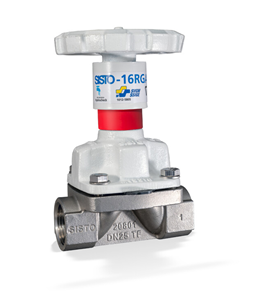 Source: KSB
The specially enclosed diaphragm provides tight shut-off as well as hermetic sealing to atmosphere and of all operating elements, thus maximizing diaphragm service life. It is made of high-quality elastomer (EPDM/W270) and meets the German Environment Agency's requirements on plastics suitable for drinking water applications and DVGW Worksheet W270.
Closing torques are minimized by a smooth-running thrust bearing and because the threaded stems for actuating the valve are not in direct contact with the fluid, they will continue to deliver smooth operation even after years of continuous operation. In addition, fitted stem protection prevents any external contamination and serves to indicate the valve position. The SISTO-16RGAMaXX series is virtually maintenance-free thanks to all functional parts being located outside the fluid compartments.
The valve covers a temperature range from -10° C to 90° C (14° F to 194° F) and is designed for a pressure of 16 bar (232 psi). This makes the SISTO-16RGAMaXX series highly suitable for thermal disinfection.