Black Buffalo 3D working to shrink affordable housing gap
Amy J. Born | July 24, 2022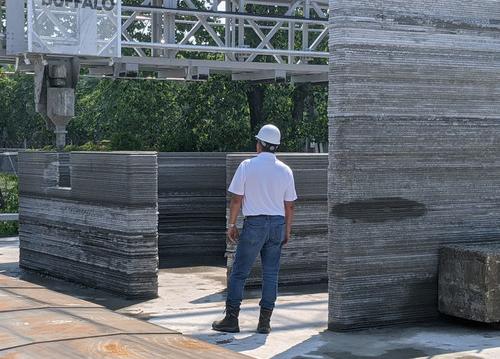 Black Buffalo 3D CEO/COO Michael Woods watches NexCon 3D print sample home. Image Source: Black Buffalo 3D
In line with President Biden's recently released initiatives regarding the use of 3D printing as a means of shrinking the affordable housing gap, Black Buffalo 3D is offering consultations to contractors, builders, precast companies and developers to maximize the opportunity to localize supply chains, print communities and shorten build times. Included in President Biden's action plan are legislative and administrative incentives to create and preserve affordable housing units and ease the burden of housing costs over time.
3D printing offers several ways to increase labor productivity, save costs and increase energy efficiency, such as onsite 3D construction, near-site printing, standup printed walls and printed facades. Supply chain disruptions that impact traditional building methods are avoided with 3D construction printers and proprietary cement ink. Black Buffalo 3D has focused its efforts on making its 3D construction equipment (NEXCON printers) and materials (Planitop 3D) viable options for a wide range of residential and commercial construction projects.
Working with industry professionals to pass inspections
Black Buffalo 3D is the first company to submit its machine, material and 3D-printed walls to meet the stringent International Code Council Evaluation Service (ICC-ES) AC-509, currently the only globally recognized building criteria for 3D-printed walls. Customers who purchase NEXCON printers and Planitop 3D ink will receive lab and ICC-ES verification about proper use, techniques and expected structural results to aid in the approval process for 3D-printed structures. The company has also worked closely with HUD to address the challenges of inconsistent state and local inspection requirements and standards and to educate the industry on best practices and techniques for printing affordable homes.
Compared to traditional wood frame and concrete block (CMU) construction, 3D concrete printing (3DCP) is faster and creates less construction waste. 3DCP also offers greater design flexibility through its ability to print complex shapes. 3D-printed homes are resilient to hurricanes and other natural disasters. Planitop 3D adds strength and durability to protect against wind and floods. 3D-printed structures have an expected service life of 60 to 100 years with limited repair or reconstruction.
[Learn more about 3D printing products and services through GlobalSpec.com here.]
Projects by Black Buffalo 3D's clients are already in the works, including Alquist 3D's 200-home project in Virginia.