Nontraditional water resources and the distributed hydrogen economy
S. Himmelstein | September 16, 2022
Green hydrogen offers a clean energy resource to displace fossil fuels and achieve decarbonization goals. However, distribution challenges and transport by fossil fuel-consuming vehicles can undermine sustainability gains and impede adoption of a hydrogen economy. A decentralized approach to hydrogen production and consumption, based on electrolysis of seawater, industrial wastewater, municipal effluents and other nontraditional water sources is proposed by Yale University researchers.
Distributed point-of-use water electrolysis could potentially utilize abundant local sources of wastewaters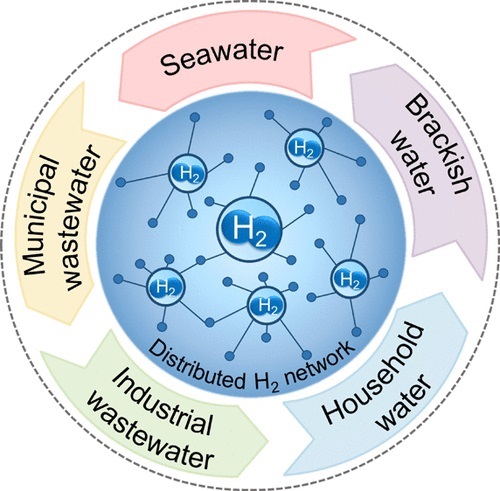 Nontraditional sources offer opportunity for point-of-use distributed water purification and hydrogen production. Source: Yale University and other nontraditional water sources. If the costs associated with purification of these water sources are negligible, these waters could be mined for decentralized water electrolysis to minimize hydrogen transportation and renewable energy transmission bottlenecks.
A more distributed infrastructure would be ideal in water-scarce regions, as it would avoid tapping into potable water sources. Creating hydrogen at many smaller sites instead of at a central hub translates into a reduced need for transportation, one of the major costs — and a source of carbon dioxide emissions — in distributing hydrogen.
Challenges and opportunities for such near-point-of-use hydrogen production are analyzed in Environmental Science & Technology.