Refrigerated trailers to chill with solar power
S. Himmelstein | August 09, 2022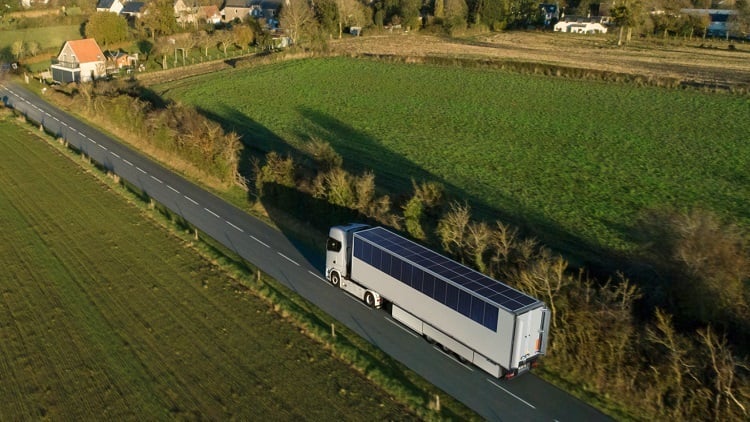 Sono Motors will design a prototype solar panel-integrated refrigerated truck. Source: Sono Motors
Sono Motors is extending the solar-powered prowess demonstrated with its Sion automobile to the refrigerated trailer market. The Germany-based company has signed a contract with the Reefer Group to supply a solar-powered refrigerated trailer to its Chereau subsidiary.
The trailer, covered in solar panels, will be used to evaluate the technical and economic feasibility of integrating solar panels into this high-volume transportation segment. The testing process is designed to validate the company's energy and fuel saving estimates, which are based on internal calculations that include weather and system efficiency assumptions.
The 54 solar panels applied to the roof and sides of an existing trailer will provide the cooling unit with up to 9.8 kW of electricity, conserve up to 8,400 liters of fuel per year and keep about 9 tons of carbon dioxide per trailer out of the atmosphere compared to a diesel-powered cooling unit. The 58.9 m2 of automotive-grade solar modules will charge the battery system to power and operate the cooling unit through charging.
The system will also be fitted with Sono Motors' solar charge controller, which optimizes individual module energy yields to help the installation deal with shading. The company has developed a manufacturing process specifically tailored to integration into the surface of the trailer, differing from the processes used in its Sion passenger vehicle, where more focus is required on integrating solar into the vehicle's curved surfaces.