Battery-powered truck refrigeration delivers just desserts
S. Himmelstein | September 23, 2022
A lithium-ion battery-powered transport refrigeration system recently proved sweetly successful, transporting ice cream by truck during a nine-month trial and resulting in reduced energy use and greenhouse gas emissions.
The collaboration between equipment service provider TIP Trailer Services, global consumer goods company Unilever, transport company Daily Logistics Group and green technology developer Maxwell+spark is estimated to have saved the emission of more than one ton of carbon dioxide per month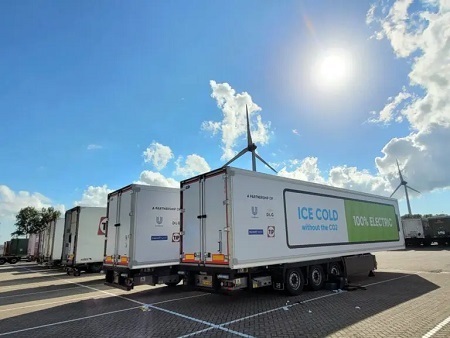 Source: maxwell+sparkper refrigerated trailer relative to traditional diesel refrigeration systems.
The pilot project launched in the second half of 2021 when the first two semi-trailers used to transport Ben & Jerry's ice-cream were equipped with Maxwell+spark's Advantage.li system. The target was to save 80% of the diesel used in traditional refrigeration systems by replacing them with a battery that could draw from a green electric grid. Not only was this achieved, but current project data is said to show that the system reached more than a 99% savings of fossil fuel over the last few months.
The system provides cooling for up to 24 hours at -25° C and up to 36 hours at 0° C. Battery models of 40 kWh to +70 kWh are charged in one to three hours and include all-digital, triple layer over-charge and over-discharge protection.
As a result of the cost, fuel and emissions savings demonstrated, additional trucks have been fitted with this system and are now on the road.