First ground verification facility for space-based solar energy tech
S. Himmelstein | June 15, 2022
Interest is gaining in space-based solar power as an opportunity to generate continuous electricity without greenhouse gas emissions 24 hours a day, 99% of the year. Space-based solar panels are envisioned to capture and transmit solar energy to terrestrial stations for conversion to electricity and subsequent delivery to power grids. This concept comes closer to fruition with the completion of the first full-link and full-system ground test facility in China.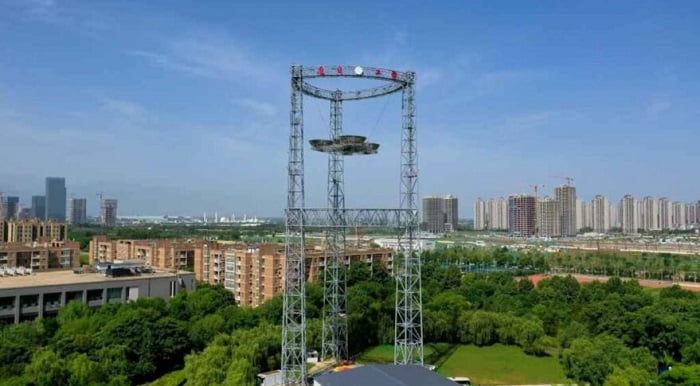 The steel structure hosts systems for testing space-based solar power. Source: Xidian University
The 75 m-high steel structure completed at Xidian University hosts subsystems for testing space-based solar power concepts. The facility is designed to collect solar energy and convert it into DC electricity for subsequent conversion into microwaves for transmission via an antenna over a distance of 55 m. Engineered to test and verify technology for the Orb-Shape Membrane Energy Gathering Array (OMEGA) system. the ground verification system includes technologies for concentrating light and photoelectric conversion, conversion of energy into microwaves, microwave transmission and waveform optimization, microwave beam aiming measurement and control, and microwave reception and rectification.
The proposed OMEGA system is composed of a spherical solar power collector, hyperboloid photovoltaic cell array, power management and distribution subsystems and a microwave transmitting antenna.