ESA-led project seeks self-cleaning coatings for spacecraft surfaces
Marie Donlon | June 09, 2022
A European Space Agency (ESA)-led project is attempting to create microbe-killing, self-cleaning coatings appropriate for use within spacecraft cabins.
The microorganisms present in orbit alongside astronauts can reportedly pose both a serious threat to health and to the structural integrity of spacecraft. Present on the various surfaces within the International Space Station, according to a microbial survey of these surfaces, were several different bacteria and fungi species, including harmful pathogens like Staphylococcus aureus, which has been linked to both skin and respiratory infections as well as to food poisoning.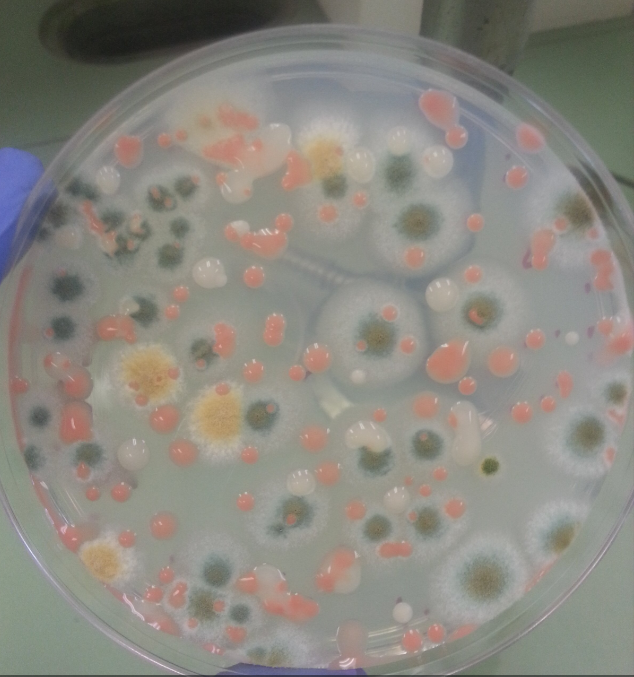 A petri dish contains colonies of fungi grown from a sample collected aboard the International Space Station during the first of NASA's three Microbial Tracking-1 flights. Source: NASA/JPL
Beyond sickening astronauts, the microbial populations, according to researchers, could also compromise spacecraft integrity by producing biofilms that can tarnish and eat away at metal, glass, plastic and rubber.
Considering that astronaut immune systems are suppressed by microgravity, the ESA-led project seeks to control the microbial populations of future long-duration space missions. As such, the ESA is collaborating with Istituto Italiano di Tecnologia, IIT, to assess antimicrobial materials appropriate for use on internal cabin surfaces.
Currently, the IIT team is working with titanium oxide (or titania) to develop a coating for such an application. When exposed to ultraviolet (UV) light, titanium oxide reportedly breaks down water vapor in the air into free oxygen radicals that consume whatever is on the surface, including bacterial membranes.
"Bacteria gets inactivated by the oxidative stress generated by these radicals," explained Mirko Prato of IIT. "This is an advantage because all the microorganisms are affected without exception, so there is no chance that we increase bacterial resistance in the same way as some antibacterial materials."
So far, the titanium oxide coating developed through the ESA-led project has been successfully applied via physical vapor deposition and atomic layer deposition to glass, silicon wafer, aluminum foil and clean-room grade tissue paper.