Cummins unveils new 15 liter hydrogen engine
S. Himmelstein | May 18, 2022
Attendees of the Advanced Clean Transportation (ACT) Expo, held May 9 to 12, 2022, in Long Beach, California, were introduced to a new 15 liter hydrogen engine developed by Cummins Inc. With full production planned for 2027, the hydrogen internal combustion engine will provide a low cost zero-carbon solution for high load factor and high utilization applications where battery-electric solutions cannot meet operational requirements and fuel cells are not yet economically viable.
In the fuel-agnostic platform developed by Cummins, each fuel type's engine has largely similar components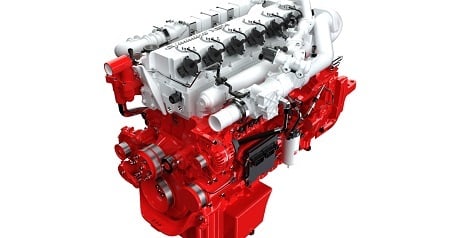 Source: Cummins Inc. below the head gasket but different elements are integrated above the gasket for different fuel types. The engine platform reduces carbon emissions by enabling vehicles to run on low to zero carbon fuels using the familiar internal combustion engine technology. The new engine is engineered as a zero-carbon fueled solution for multiple markets and will be manufactured in both the 15 liter and 6.7 liter displacements.
According to the U.S. Environmental Protection Agency's Greenhouse Gas Emissions Model (GEM) for Medium- and Heavy-Duty Vehicle Compliance, a model year 2027 Class 8 sleeper cab semi, powered by a hydrogen internal combustion engine would generate 144 fewer metric tons of carbon dioxide per year versus its diesel-powered counterpart.