Video: A modular approach to EV charging infrastructure
S. Himmelstein | May 09, 2022
U.K. startup ZipCharge is expanding electric vehicle (EV) charging infrastructure with the development of GoHub, a modular, portable public charging station that can be installed anywhere on a footprint the size of a parking space. EV owners will now have the option to purchase the Go power banks or rent one through the GoHub.
The GoHub hosts multiple ZipCharge Go EV power banks to address the need for convenient, flexible and low-cost energy. The GoHub is modular and flexible in size, suitable for a diverse number of locations, including on-street, in car parks, at work and in private environments.
Two variants will be available: a single sided unit housing five ZipCharge Go portable power banks, or a double-sided GoHub with 10. Each Go is home to a 4 kWh, 6 kWh or 8 kWh battery, and once the power bank is depleted, the driver will receive a notification via a mobile app so that the unit can be unplugged and returned to the hub for recharging before being made available to the next customer. Go provides up to 20 miles (32 km) of range and can be easily stored in the trunk or at home.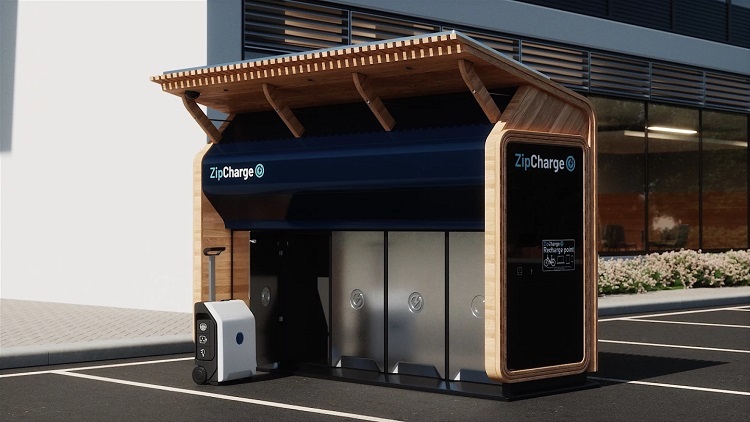 The GoHub module is designed to host five or 10 Go EV power banks in a standard parking space. Source: ZipCharge
The GoHub structure will be built using plant-based composite materials, glued-laminated timber and recycled steel from scrapped internal combustion engine vehicles. As well as a home for EV power banks, ZipCharge sees the GoHub serving as a community Wi-Fi hotspot, harvesting rainwater for the green roof or sporting solar panels or mini wind turbines.
ZipCharge targets global deployment of 100,000 GoHubs by 2030 to support EV charging and local grid resiliency.