Universities to compete in EcoCAR EV Challenge
S. Himmelstein | April 25, 2022
A collegiate research and experimental learning competition has been launched by the U.S. Department of Energy to challenge students to engineer novel technologies for battery electric vehicles (EVs).
Partners in the four-year EcoCAR EV Challenge include MathWorks, which will supply software tools, simulation models and training, and General Motors, which will provide student teams across 15 academic institutions with a Cadillac LYRIQ, the brand's first all-EV. The model will serve as the basis to advance and demonstrate technology that utilizes automation and vehicle-to-everything connectivity.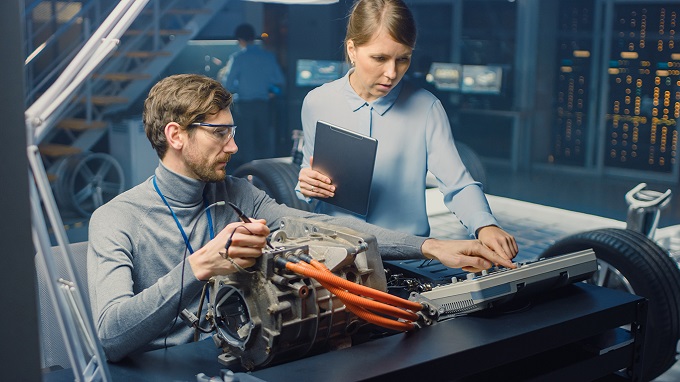 Students will engineer a next generation battery EV that utilizes automation and vehicle-to-everything connectivity. Source: Advanced Vehicle Technology Competitions
The challenge prioritizes equity in mobility and inclusion in science, technology, engineering and mathematics to deliver clean transportation benefits to all. University teams will demonstrate the potential of connected and automated vehicle technologies, which allow for semi-autonomous vehicles and advanced propulsion systems to improve energy efficiency. This technology can improve safety along roadways while supporting emissions reductions within the transportation sector. Participants will also use a combination of on-board sensors and bidirectional vehicle-to-everything connectivity to enable the export of electricity from EV batteries to other loads and to support the electrical grid.
These university teams will begin the competition this fall:
Embry-Riddle Aeronautical University (Florida)/Bethune-Cookman University (Florida)
Georgia Institute of Technology
Illinois Institute of Technology
McMaster University (Ontario, Canada)
Mississippi State University
Ohio State University/Wilberforce University (Ohio)
University of Alabama
University of California, Riverside
University of California, Davis
University of Texas, Austin
University of Waterloo (Ontario, Canada)
Virginia Tech
West Virginia University