Carnegie Mellon to Compete in DARPA's Underground Tunnel Robotics Challenge
Peter Brown | September 27, 2018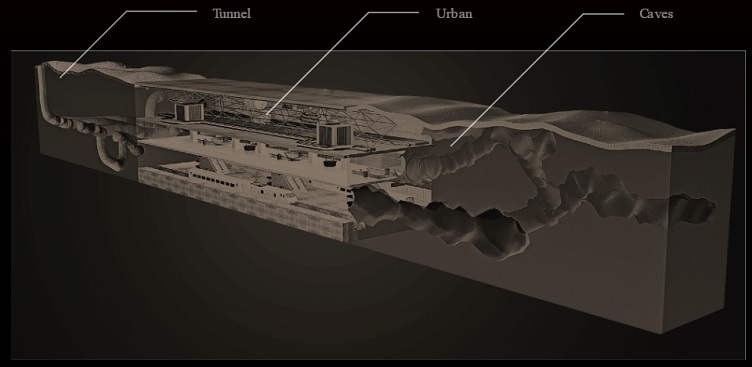 The robots will be developed to fit in both small and large spaces of underground areas. Source: CMU
A research team from Carnegie Mellon University (CMU) is set to compete in the Defense Advanced Research Projects Agency (DARPA) Subterranean Challenge — a competition to develop robots that can autonomously search tunnels, caves and underground structures.
The team is one of six teams that will receive up to $4.5 million from DARPA to develop the robotics platforms, sensors and software necessary for underground missions. The robots will be tasked with rapidly mapping, exploring and exploiting complex underground environments ranging from spaces too small for humans to areas big enough to accommodate an all-terrain vehicle.
The challenge is designed to provide first responders or military personnel with capabilities to accomplish a variety of missions in caves, tunnels or urban underground facilities such as subway stations or hyperloop.
"Successfully completing these missions will require multiple robots, including both drones and ground vehicles," said Sebastian Scherer of CMU's Robotics Institute. "Our team has a wealth of experience in operating robots in mines, enclosed spaces and the wild, and in coordinating the activity of multiple robots."
CMU will develop robots that can be rapidly built and reconfigured to adapt to various environments including small robots because four-wheeled platforms may not always be able to fit into a smaller tunnel.
The CMU team is receiving support from Boeing and from Near Earth Autonomy, a spinoff of the CMU Robotics Institute, and will also seek out commercial sponsors.
The Challenge
In the fall of 2019, DARPA will conduct a series of challenges in man-made tunnels, natural caves and underground structures. The final event will take place in the fall of 2021, that will combine all three of these subterranean environments.
The competition will take place on two tracks -- first, a system track where teams such as CMU develop and demonstrate physical systems for live competitions. The second will be a virtual track where teams will develop software and algorithms to compete in simulated environments. DARPA will award $2 million to the winner of the systems track and $750,000 to the winner of the virtual track.
For more information about the Subterranean Challenge, click here.