Watch a solar eclipse from Mars
S. Himmelstein | April 22, 2022
The journey of a Martian moon across the face of the sun on April 2, 2022, was captured by NASA's Perseverance Mars rover. The 40-second solar eclipse was documented by the craft's next-generation Mastcam-Z camera.
The upgraded camera has provided the most zoomed-in video to date of a solar eclipse involving Phobos, one of two moons orbiting Mars, and at the highest-frame rate ever. Mastcam-Z is an advanced camera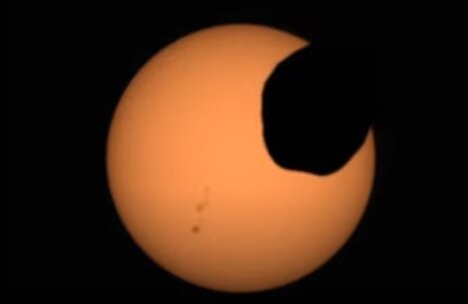 Phobos solar eclipse taken from the Martian surface. Source: NASA/Jet Propulsion Laboratory-Caltech/Arizona State University/Malin Space Science Systems/Space Science Institute system with panoramic and stereoscopic imaging capability with the ability to zoom. The instrument will also be of value in determining mineralogy of the Martian surface and assist with rover operations.
The images and videos provided by Perseverance, which landed in February 2021, will advance understanding of this moon's orbit and how its gravity pulls on and shapes the Martian surface. The mission is also expected to collect and store a set of rock and soil samples that could be returned to Earth in the future.
Unfortunately, the future for Phobos does not appear bright: the gravity and tidal forces it exerts on the planet are gradually altering the moon's orbit, bringing it closer to the Martian surface where it will crash in tens of millions of years.