New concrete alternative could reduce greenhouse gases
Amy J. Born | April 22, 2022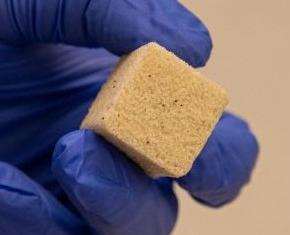 ECM is made through a process involving an enzyme reaction that creates calcium carbonate crystals. Source: Worcester Polytechnic Institute
Worldwide concrete production grew from 1.39 billion tons in 1995 to 4.1 billion tons in 2020. Because it is so ubiquitous and has high carbon dioxide emissions, concrete is one of the largest contributors to climate change. Researchers from Worcester Polytechnic Institute (WPI) recognized the need for an alternative and have now developed a new material that is low-cost, high-impact and sustainable.
The WPI researchers have developed a self-healing enzymatic construction material (ECM) which they describe as "living material" that can lead to the repair or replacement of traditional concrete.
The material uses the biological enzyme carbonic anhydrase, found in all living cells, as a catalyst for chemical reaction. Carbonic anhydrase reacts with CO2 and can quickly and efficiently remove greenhouse gas from the atmosphere, said Suzanne Scarlatti, professor of chemistry and biochemistry at WPI.
The process of making ECM involves an enzyme reaction to make calcium carbonate crystals, the material's main ingredient. A sand slurry and a polymer are added to hold the material together during the early stages. If a crack develops due to damage or wear and tear, the material can heal itself while retaining its strength through up to six healing cycles.
Collaborative research brings innovative results
The research is a result of the interdisciplinary collaboration of Civil, Environmental & Architectural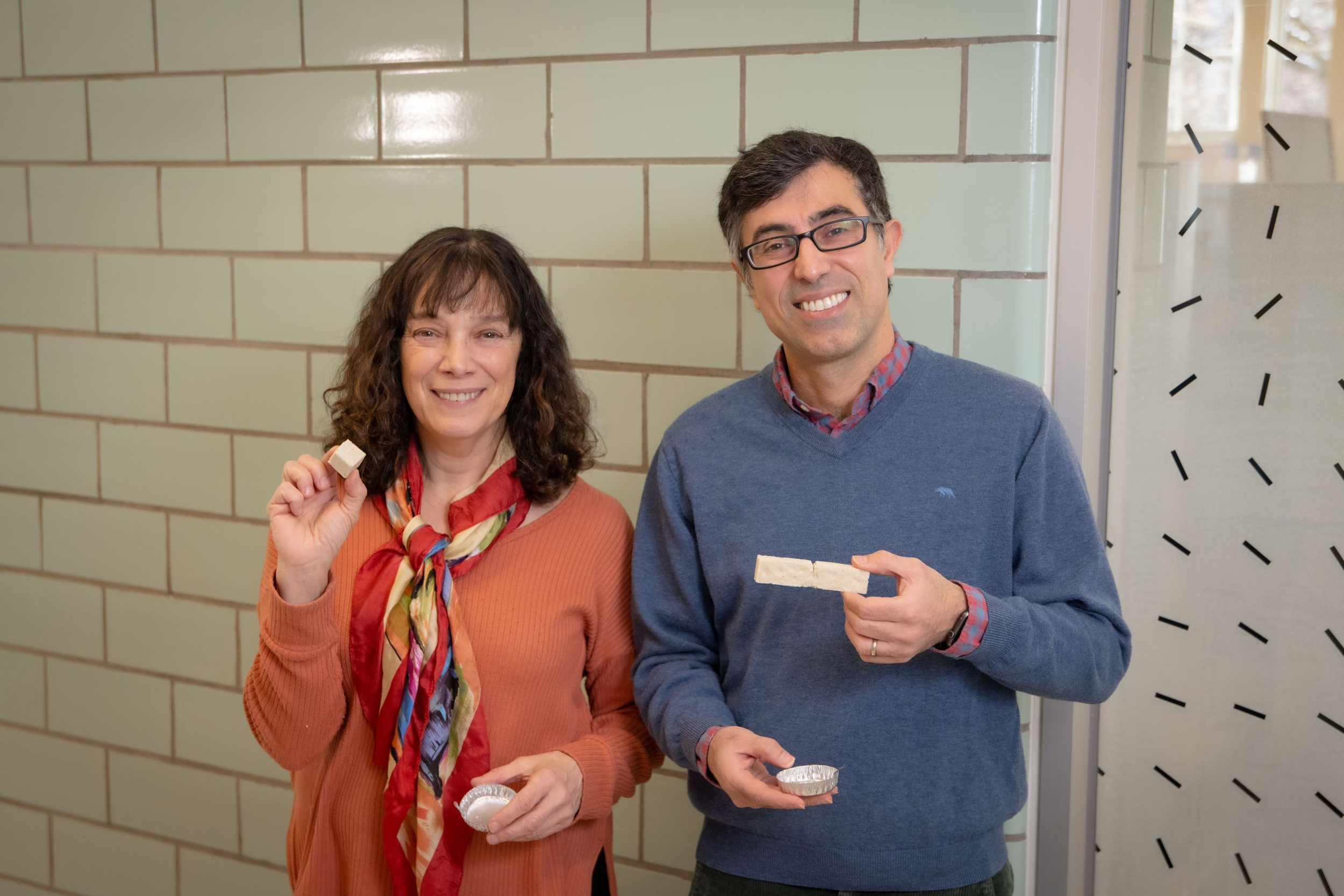 Professors Suzanne Scarlata and Nima Rahbar hold samples of enzymatic construction material. Source: Worcester Polytechnic Institute Engineering Associate Professor Nima Rahbar; Ph.D. student Shuai Wang; and Scarlata. The team earlier created a type of self-healing concrete. Their new construction material goes further as a negative emission substance made from CO2 that is not concrete at all. CO2 goes into the material during production and is also consumed during the self-healing process. According to the team's calculation, "one cubic yard of ECM stores 18 pounds of CO2, while one cubic yard of concrete emits 400 pounds of CO2," said Rahbar.
Extensive testing and experimentation revealed that the material has what the team calls "outstanding" compression strength, which makes it strong enough to use as a compressive element in building construction. It can also be produced at a low cost.
Going forward, the team has plans to enhance ECM's properties and then to commercialize the product.
The research is published in the journal Matter.