Continued expansion expected for global fasteners market
Engineering360 News Desk | April 05, 2022
The global market for industrial fasteners, estimated at $69.7 billion in the year 2022, is projected to reach $87.3 billion by the year 2026 and post a compound annual growth rate (CAGR) of 4.2% over the analysis period. This is according to a new study by market research company Global Industry Analysts Inc.
Demand for industrial fasteners is anticipated to register steady growth in the long run, owing to rising demand from various end-use sectors such as construction, machinery and automotive after the COVID-19 pandemic subsides. Strong revival in the construction and automotive markets will fuel demand for these fasteners in several developed regions. Further, the growing adoption of lightweight fasteners and titanium fasteners in the automotive and aerospace sectors respectively is also likely to bode well for the market.
Metal fasteners, one of the segments analyzed in the report, is projected to record 4% CAGR and reach $80.4 billion by the end of the analysis period. After an early analysis of the business implications of the pandemic and its induced economic crisis, growth in the plastic segment is readjusted to a revised 5.5% CAGR for the next seven year period. Despite the increasing use of adhesives and chemical bonding in automotive applications, use of metal fasteners continue to dominate given the unrivalled strength and structural integrity offered. The development of newer manufacturing technologies is also helping sustain the dominance of metal fasteners. Plastic fasteners, especially nylon fasteners, are growing in popularity encouraged by the technology breakthroughs achieved in composite material R&D. Glass or metallic fillers are often used in combination with plastics to enhance the strength and performance.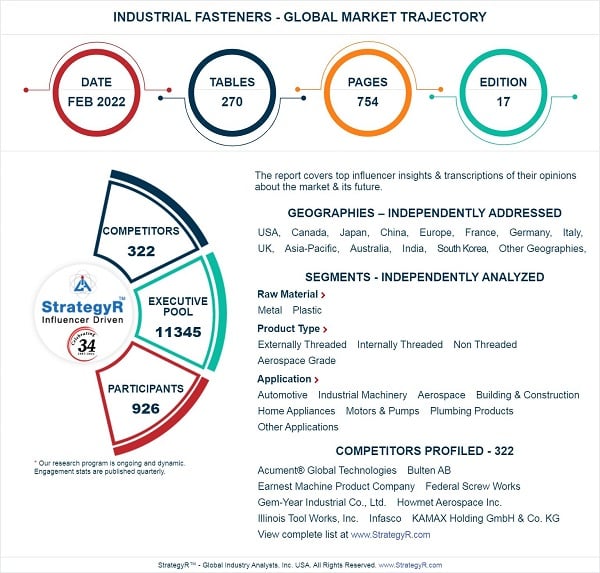 The global industrial fasteners market to reach $87.3 billion by 2026. Source: Global Industry Analysts Inc.
The industrial fasteners market in the U.S. is estimated at $12.3 billion in the year 2022. China, the world`s second largest economy, is forecast to reach a projected market size of $19.5 billion by the year 2026 trailing a CAGR of 5.8% over the analysis period. Among the other noteworthy geographic markets are Japan and Canada, each forecast to grow at 2.7% and 4.1% respectively over the analysis period. Within Europe, Germany is forecast to grow at approximately 2.7% CAGR. Asia-Pacific (including China and Japan) is anticipated to drive the global industrial fasteners market in value terms. Rising demand for automobiles, especially in China and India, and the growing construction and maintenance activities will buoy demand for industrial fasteners in the region.