DESTACO unveils front-mount-base manual clamp models
Engineering360 News Desk | April 01, 2022
Automation, workholding and remote-handling solutions supplier DESTACO has expanded its range of horizontal and vertical toggle-lock Manual Clamp product line with the introduction of a front-mount-base model. The compact, space-saving front-mount base is designed to offer users additional flexibility in their workholding applications.
"The clamp's vertical foot provides for higher user flexibility. The position of the base leads to significant reduction in interfering contours," explained Nina Wolleb, application engineering manager, Europe for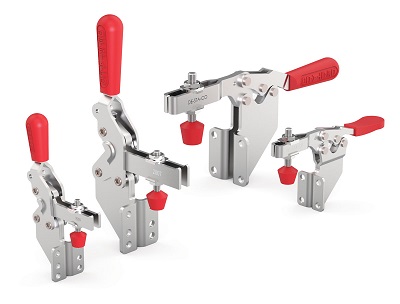 Source: DESTACO DESTACO.
The front-mount option is available for inclusion on a total of four manual clamps that can be used with both vertical and horizontal handle action. The two vertical operating models — 2002-UF and 2007-UF — provide enlarged space for manual operations and increased safety. The horizontal versions — models 225-UF and 235-UF — have a flat design that creates space for larger hand clearance, which improves operational safety.
The new models use the same connection-hole pattern as existing models, along with the same spindles, pin holders and bolt retainers. All models have hardened bushings at key pivot points and the design does not interfere with the mounting connections.