Video: GE's worm-like tunneling robot gets "whiskers"
Marie Donlon | March 17, 2022
A new iteration of a robot capable of destroying both hard and soft waste deposits — otherwise known as fatbergs — in underground municipal water and sewer system pipelines and autonomously mapping oil and gas networks has been developed by GE.
GE's Programmable Worm for Irregular Pipeline Exploration, or "Pipe-worm," has been outfitted with cockroach-inspired "whiskers" designed to identify turns, elbows, pipe diameter changes and junctions in pipeline networks.
According to GE, the Pipe-worm uses a combination of artificial intelligence (AI) and sensory data collected by the new whiskers to detect even the most subtle environmental and atmospheric changes in its underground surroundings. Likewise, the Pipe-worm uses that information to map oil and gas pipeline networks in real-time.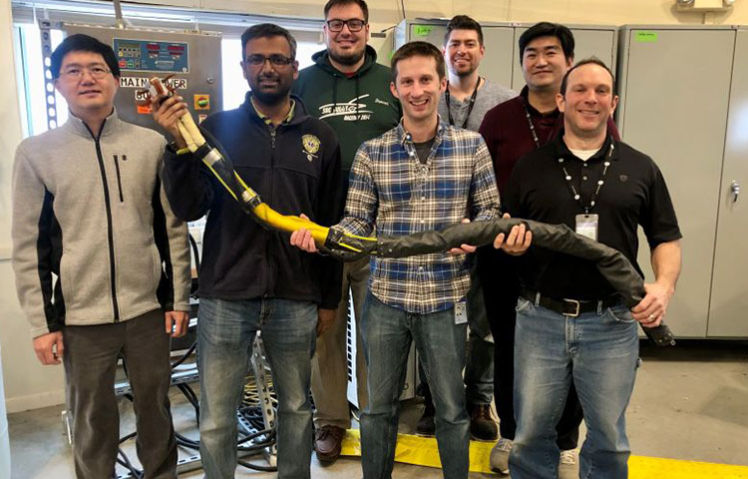 Source: GE
Originally developed under the U.S. Defense Advanced Research Projects Agency's (DARPA's) Underminer Program, which seeks to develop more sophisticated tunneling technologies, the new iteration of Pipe-worm successfully navigated more than 100 m of pipeline, navigating turns and other changes without disturbing normal pipeline operation. Additionally, the Pipe-worm managed to travel against the fast moving flow of liquids encountered in pipelines.
In addition to autonomously monitoring and maintaining underground pipeline networks, GE suggests that the Pipe-worm can be used for a host of military applications as well as for performing aviation repairs and maintenance, and for the inspection of conduits for underground fiber optic cables.
Watch the accompanying video that appears courtesy of GE for more information on the Pipe-worm.