Team building 3D-printed soft robots with gelatin-sugar ink
Marie Donlon | February 09, 2022
Scientists from Austria's Johannes Kepler University Linz have created a biodegradable ink for 3D printing soft robots.
Specifically, the scientists turned to a biodegradable mix of sugar and gelatin to develop the ink for use in the manufacture of 3D-printed soft robots.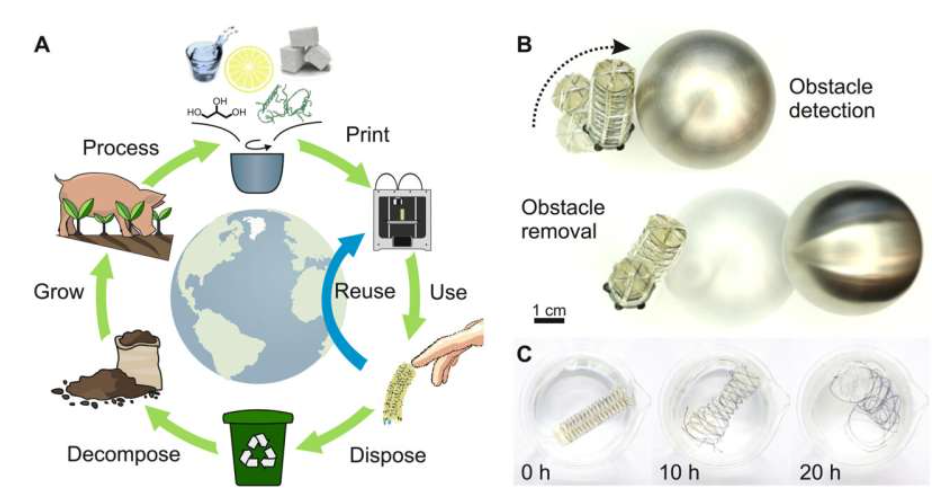 Sustainable 3D-printed soft actuators with integrated waveguide sensors.(A) Biodegradable constituents enable a cradle-to-cradle design for soft robotics, where thermoreversibility opens an additional subcycle for multiple usage and extended lifetime. (B) Three-chamber pneumatic actuator with fiber reinforcement and integrated optical sensors. The sensors detect obstacles in the path of the actuator and allow removal of the object. (C) When immersed in water, the gelatin actuator and waveguides swell and dissolve. Complete biodegradation is enabled in sewage or compost. Source: DOI: 10.1126/scirobotics.abk2119
The team determined that the jelly-like mixture could overcome the previous challenge of creating soft robots composed of biodegradable materials, which tend to dissolve in water or experience molding, for instance. To accomplish this, the team added citric acid to avoid molding and glycerol to avoid dissolution in water.
In the lab, the mixture was warmed to the point of softness so that the substance could pass through a printing nozzle. When the team ran the substance through a printer in a chilly room, the gelatin solidified.
The team of scientists then used the gelatin mix to create a working, soft pneumatically driven actuator and then stretchable waveguide sensors that work in conjunction with LED lights. Combined, the gelatin-derived waveguide sensors and pneumatically driven actuator reportedly created a functioning soft robot.
The team envisions that the substance could one day pave the way for the development of tiny soft robots swimming throughout the human body, delivering medications or repairing damaged tissue,
The study detailing the gelatin ink, 3D printing of resilient biogels for omnidirectional and exteroceptive soft actuators, appears in the journal Science Robotics.