Sensor puts biofuel-producing yeast in the spotlight
S. Himmelstein | February 01, 2022
Yeast are efficient biofuel producers but the identification and development of strains for optimizing chemical yield is a time-consuming, laborious process. Research conducted at Princeton University can now speed up the isolation of high-producing yeast strains and the identification of mutant enzymes with enhanced activity. The technology can be applied to engineer biosynthetic pathways for production of isobutanol and isopentanol, alcohols with a higher energy content than ethanol, and render the genetic selection process for biofuels development thousands of times faster.
The rate at which genetic diversity can be introduced in yeast greatly outpaces the rate at which each strain can be screened to identify those with increased biofuel production. In search of a rapid means of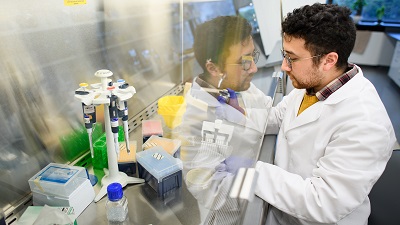 A new tool speeds the genetic selection process to identify biofuel-producing yeast strains. Source: Sameer A. Khan/Fotobuddy determining which genes to manipulate, the researchers genetically engineered the cells to produce a fluorescent protein during production of chemical precursors for biofuels. Such fluorescence can serve as a sensor to signal elevated production activity. Strains with higher fluorescence isolated after three rounds of sorting were demonstrated to have increased branched-chain higher alcohol production, suggesting the biosensor has a very low rate of false positives.
According to the researchers, the genetically encoded biosensor detailed in Nature Communications offers potential to accelerate the development of yeast strains to produce branched-chain higher alcohols and advanced biofuels.