Advanced analytical techniques bolster battery design
S. Himmelstein | January 10, 2022
Improving the safety and performance of lithium (Li)-ion batteries requires detailed knowledge of sub-particle behavior in electrode materials. An international research group has effectively combined microscopy techniques to characterize single particles in Li-ion cells.
Researchers from Ulm University (Germany), Colorado School of Mines and the U.S. National Renewable Energy Laboratory (NREL) artificially generated the representative architecture of a Li-ion electrode particle with sub-particle grain detail. The artificial electrode will allow researchers scientists to manipulate the model to evaluate opportunities for battery design improvements.
X-ray nano-computed tomography was applied to capture the morphology of the particle's outer shape. For the internal grain distribution, focused-ion beam electron backscatter diffraction was used to capture high-resolution sub-particle information.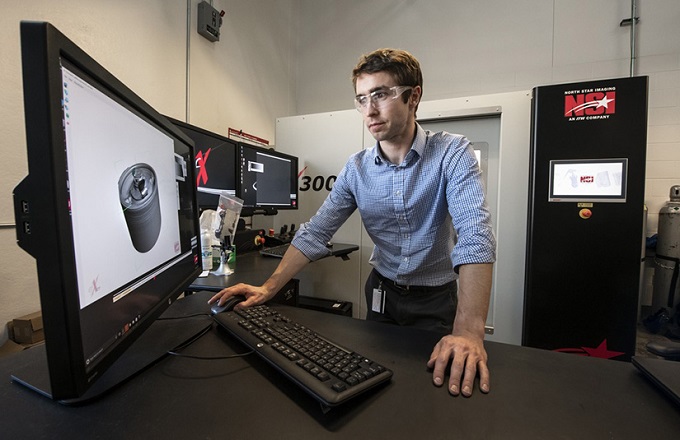 X-ray computed tomography is used to diagnose lithium-ion batteries within NREL's Energy Storage Integration Facility. Source: Dennis Schroeder/NREL
Initial results reported in npj Computational Materials have already advanced understanding of the physical conditions that affect how Li travels through the electrode and around the particle grains. The data gleaned can help engineer batteries that can withstand extremely fast charging conditions without accelerated degradation. Modeling various particle architectures will be the focus of future work in order to clarify the influence of grain properties on battery cell performance and to explore the influence of grain orientations on the performance and degradation of particles.