Video: Carbon capture pipeline to span US Midwest
S. Himmelstein | December 22, 2021
Spanning five states and involving at least 31 ethanol plants connected by 2,000 miles of pipeline, an Iowa-based company plans to make a major investment in low-carbon fuel. The $4.5 billion Midwest Carbon Express project is under development by Summit Carbon Solutions to transport 12 million tons of carbon dioxide annually to western North Dakota, where it can be stored underground. It would be the largest carbon capture project in the world.
The targeted sites have an estimated aggregate potential to store one billion tons of CO2 safely and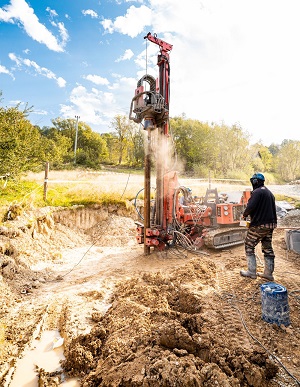 Stratigraphic test wells are being drilled. Source: Summit Carbon Solutions permanently. Most of the pore space necessary to develop this hub has been secured through long-term leases with landowners. The ethanol plants along the route are expected to benefit from access to selling fuel for a premium on the low-carbon market without investing their own money.
Multiple stratigraphic test wells have been drilled and the company is now collecting data to guide the safe, permanent storage of CO2 in deep subsurface formations. Summit has also received state and local permits to collect 3D seismic data on approximately 200 square miles of land in western North Dakota. The company has contracted with Paragon Geophysical Services to complete the seismic tests and will use the resulting data to create a 3D model that will provide the basis for simulation, design and permitting of CO2 storage facilities in the area.
The pipeline is expected to become operational in 2024.