First commercial passenger flight with 100% SAF
S. Himmelstein | December 02, 2021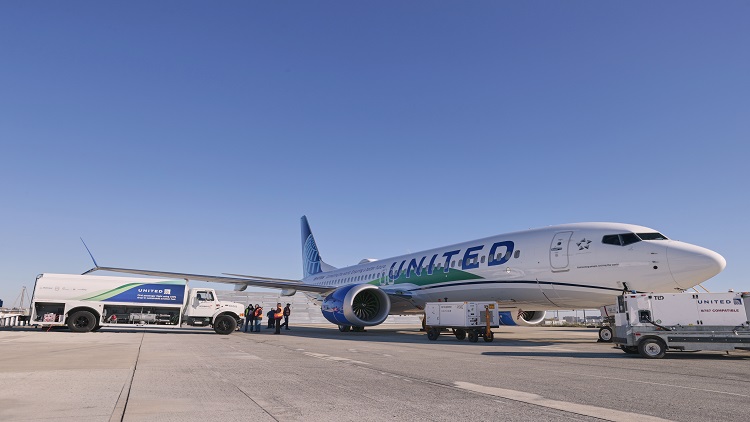 The United 737 MAX 8 preparing for its flight on 100% SAF. Source: United Airlines
On December 1, 2021, United Airlines operated the world's first passenger flight using 100% sustainable aviation fuel (SAF). The aircraft carried over 100 passengers, including the company's CEO, from Chicago to Washington, D.C.
The demonstration flight of a new United 737 MAX 8 was equipped with 500 gallons of drop-in ready SAF in one engine and the same amount of conventional jet fuel in the other engine to confirm there are no operational differences between the two and to set the stage for more scalable uses of SAF by all airlines. Currently, airlines are only permitted to use a maximum of 50% SAF on board.
The fuel supplied by World Energy is made from fats, cooking oils and grease. Blended with aromatics derived from plant sugars, this SAF produces 80% fewer emissions than conventional jet fuel.
Launched in April 2021, United's Eco-Skies Alliance program now has collectively contributed toward the purchase of more than 7 million gallons of SAF this year alone. With its nearly 80% greenhouse gas (GHG) emissions reductions on a lifecycle basis compared to conventional jet fuel, this is enough SAF to eliminate approximately 66,000 metric tons of GHG emissions, or enough to fly passengers more than 460 million miles.