Self-repairing cells improve battery life and EV performance
S. Himmelstein | December 07, 2021
New technology from StoreDot, a developer of extreme fast charging battery technology for electric vehicles (EVs), will allow battery cells to regenerate while in use through a seamless background repair mechanism.
The self-repairing system includes a suite of software algorithms with corresponding hardware to identify a cell or string of cells that are underperforming or overheating. The targeted components are temporarily disabled in order to proactively recondition them back to 100% performance, without the operator experiencing any driving interruption or loss of EV performance. This advancement of a 'self-healing' approach for EVs will play a major role in prolonging battery life and driving range, as well as improving safety by preventing overheating or any danger of thermal runaway.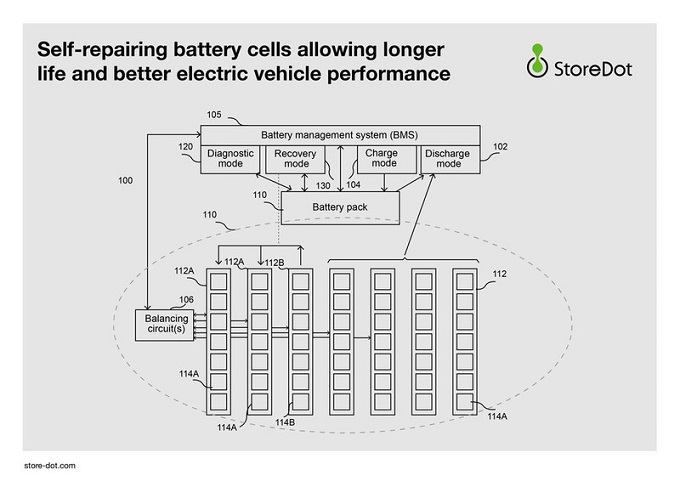 A
recently granted patent
, 'Recovering defective branches and/or cells of battery packs by deep discharges,' details how this innovation should be implemented in various EV battery pack scenarios, while the vehicle is either charging, resting or driving.
[See also: Battery design promises to revolutionize EV charging]
The Israel-based company has also been granted patents for technologies that deliver a constant range throughout the life of an EV as the battery deteriorates. It has also made available, through open-source, hardware, and software advancements of a booster technology that allows cells to receive a higher charging current, giving faster charging times even in limited charging infrastructure scenarios.