Here is a look at GM's EV platform and battery technology
David Wagman | March 05, 2020
GM rolled out what it said is an all-new modular platform and Ultium batteries for its planned fleet of electric vehicles (EVs).
GM said in a statement that it plans 19 different battery and drive unit configurations initially, including horizontal and vertical stacks, to power vehicles ranging from affordable cars and crossovers to luxury SUVs and pickup trucks.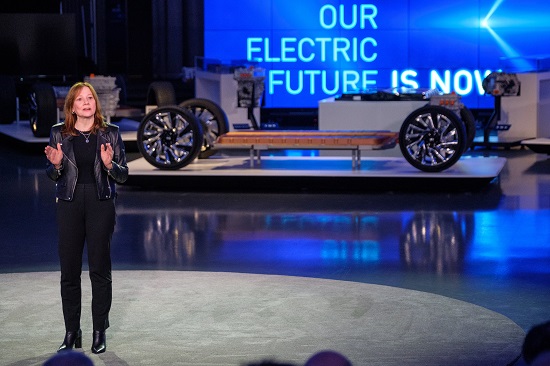 General Motors chairman and CEO Mary Barra speaks at an event detailing GM's EV technologies. Source: Steve Fecht for General MotorsThe EV battery cells will be produced at a $2.3 billion joint-venture plant that GM and LG Chem plan to build in Lordstown, Ohio. Site assessments and the permitting process for the plant are underway, and groundbreaking is expected this spring.
Just add A
The Ultium battery system is based on a newly developed chemistry for lithium-ion cells that is intended to reduce battery cost and improve performance. EVs typically make use of an NMC chemistry that is made up of nickel, manganese and cobalt coatings on the cathodes.
The Ultium cells add aluminum to the chemistry, enabling the cobalt content to be reduced by 70%.
GM said its Ultium batteries are designed with large-format, pouch-style cells that can be stacked vertically or horizontally inside the battery pack. It said this configuration will allow engineers to optimize battery energy storage and layout for each vehicle design.
The battery platform is designed to have the capability to charge more than 100 miles of range in 10 minutes.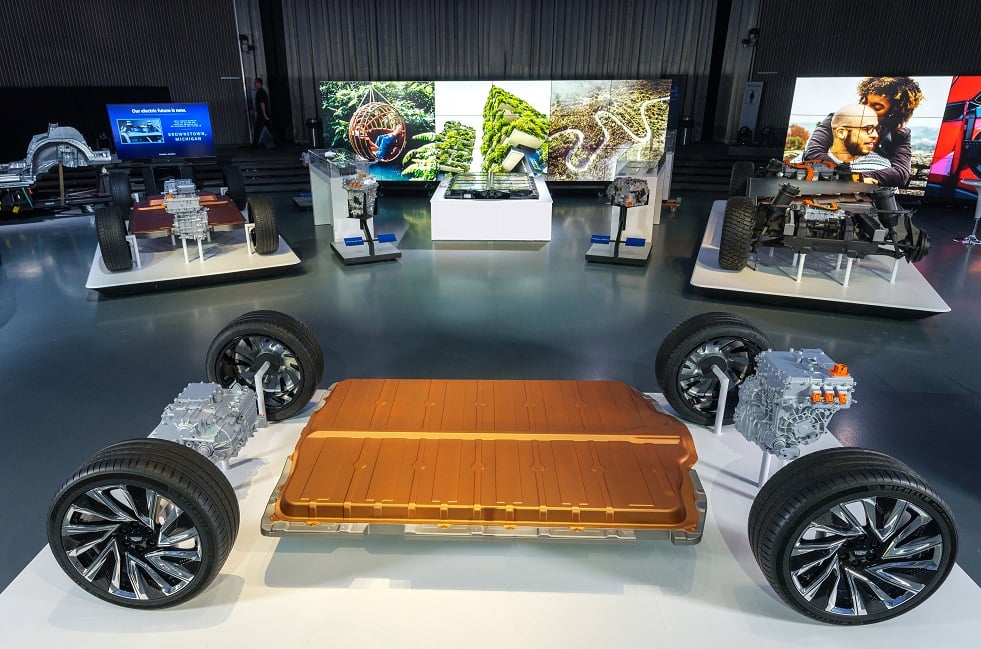 The pouch cells are intended to require less wiring and plumbing than smaller cylindrical cells. Source: Steve Fecht for GMThe pouch cells are intended to require less wiring and plumbing than smaller cylindrical cells. It includes a built-in battery management system, which eliminates 80% of the battery pack's wiring compared to GM's early-generation Chevy Bolt EV.
Battery cell cost
The automaker said it expects its joint venture with LG Chem to develop and mass produce battery cells, driving cell costs below $100 per kWh. Ongoing technological and manufacturing breakthroughs could drive costs even lower.
Ultium energy options range from 50 to 200 kWh, which could enable a GM-estimated range up to 400 miles or more on a full charge with 0 to 60 mph acceleration in as few as three seconds. Motors designed in-house will support front-wheel drive, rear-wheel drive, all-wheel drive and performance all-wheel drive applications.
Recharge specs
The EVs are designed for Level 2 and DC fast charging. GM said that most will have 400 V battery packs and up to 200 kW fast-charging capability. The company's truck platform will have 800 V battery packs and 350 kW fast-charging capability.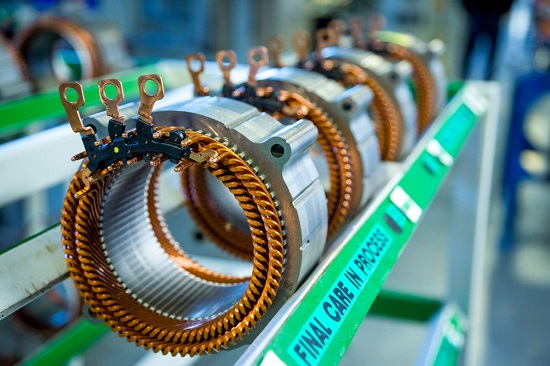 Electric motor parts at General Motors Global Propulsion Systems Center in Pontiac, Michigan. GM's joint venture with LG Chem will supply battery cells for the EVs manufactured at Detroit-Hamtramck. Source: Jeffrey Sauger for GMGM said its ability to stack batteries vertically is unique in the industry and it allows for a flat cabin floor and more interior room than comparable EVs that use cylindrical battery packs. It said the pack also allows engineers to deliver vehicles with an optimized weight distribution and a lower center of gravity to improve ride and handling.
Production line investment
In January, GM said it would spend $2.2 billion at its Detroit-Hamtramck assembly plant to produce a variety of all-electric trucks and SUVs.
The automaker said its first all-electric truck will be a pickup with production scheduled to begin in late 2021. That vehicle will be followed by the Cruise Origin, a shared, electric, self-driving vehicle unveiled by Cruise in San Francisco in mid-January.
GM said it also would spend an additional $800 million in supplier tooling and other projects related to the launch of the electric trucks. The plant's paint and body shops and general assembly area will receive upgrades, including new machines, conveyors, controls and tooling.
GM's joint venture with LG Chem will supply battery cells for the EVs manufactured at Detroit-Hamtramck.