Single pair Ethernet system makes buildings smarter
Engineering360 News Desk | November 30, 2021
The first complete single pair Ethernet (SPE) system on the market, consisting of connectors and connection modules, installation cables and patch cords for building automation networks, has been launched by Switzerland-based R&M.
SPE extends the concept of local data networks (LAN) and structured cabling systems. For signal and data transmission, only two copper wires are required instead of eight or one wire pair instead of four. SPE cables are thinner and the connectors smaller than their counterparts on the LAN cabling side. This is why a large number of small devices can also be connected without any problems with SPE cabling.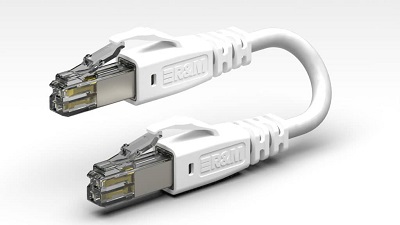 Source: R&M
SPE can also network countless digital terminal devices, such as smart LED lights, remote-controlled monitors and scoreboards, temperature, light and climate sensors, controllers for heating and ventilation, electronic cash registers, and self-service terminals. In addition to data and signals, SPE cabling can also transport electricity and thus supply terminal equipment with power. In many cases, this eliminates the need for separate wiring for the power supply.
As part of its complete cabling system, R&M offers two connector systems: LC-Cu in compliance with IEC 63171-1 for structured cabling and building automation, and MSP in compliance with IEC 63171-2 for the industrial environment. The new products can be combined with existing R&M outlets and 19 inch panels and support a transmission range of 600 m.