Video: Simplified adjustment in injection molding machines
S. Himmelstein | November 16, 2021
An integrated system for measuring injection pressure and nozzle contact force simplifies the maintenance and adjustment of plastic injection molding machines.
According to Gefran, a provider of sensors, industrial process control systems and automation components based in Italy, current methods entail measurement indirectly during operation and reliance on a corresponding conversion in the control system. Force sensors used for this purpose, such as membrane load cells for electric drives or pressure sensors for hydraulic ones must therefore be regularly compared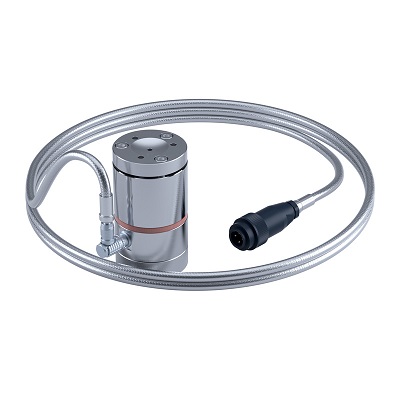 Source: Gefranwith the actual injection pressure. This time-intensive approach can be eliminated with the new IN-4000 SET plug-and-play system consisting of compact sensors, magnetic adapters and a display unit for direct measurement of pressure and nozzle contact force.
The probes can be easily mounted individually or together using magnetic fixing between the mold and the injection nozzle. The main advantage lies in the time required for installation, measurement and removal, as the process is performed in 30 to 60 minutes instead of several hours.
The IN sensor assembled with high-quality steel measures the injection pressure near the nozzle up to 4,000 bar, with a melt temperature of up to 400° C. Use of heating tape enables the sensor to reach 230° C to ensure that the melt in the conical chamber remains liquid. An insulating disc between the sensor and the magnetic adapter allows thermal decoupling of the machine parts, which results in an even temperature distribution favoring high measurement accuracy. An optional sensor heater is of value for performing multi-shot measurements with different injection pressure levels.