Team improves single-use diagnostics with Tootsie Rolls
Marie Donlon | September 30, 2021
Researchers from the School of Electrical Engineering at Korea University in South Korea are using Tootsie Rolls in the making of inexpensive and low-waste, single-use diagnostic devices.
According to the researchers, the candy serves as an electrode — the portion of the sensor that detects salt and electrolyte levels in a person's saliva, potentially revealing information about a patient's health, such as ovulation status.
To accomplish this, the team flattened a Tootsie Roll and etched a cross-hatch pattern into its surface to create cavities for holding the saliva samples once a patient has licked it. After those patterns are etched, two thin reusable aluminum tubes are inserted into the flattened Tootsie Roll to function as electrical contacts that connect the candy electrode to a circuit that features a current source and output voltage detector.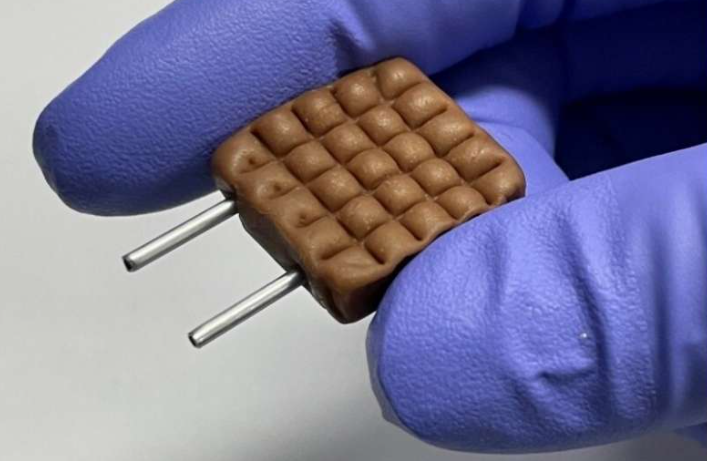 An electrode made with a molded Tootsie Roll and aluminum tubes can help monitor ovulation status and kidney health. Source: Adapted from ACS Applied Materials & Interfaces 2021
During testing, the device was used to measure salt levels in a sample that featured a salt-water solution and artificial saliva. According to the team, the sensor was immersed in the diluted artificial saliva and it measured changes occurring in the voltage that were low enough to detect a 10% to 30% decrease in salts, which signals ovulation, for instance.
Standard test strips used for measuring luteinizing hormone levels as a predictor of ovulation can be expensive to manufacture, according to the research team. The expense is generally incurred in the packaging and associated waste of such single-use tests.
As such, the researchers believe that using easily accessible components — in this case, the Tootsie Rolls — could potentially reduce the cost of single-use diagnostics and make the devices more accessible for patients in resource-limited regions of the world.
The study, Soft Candy as an Electronic Material Suitable for Salivary Conductivity-Based Medical Diagnostics in Resource-Scarce Clinical Settings, appears in the journal ACS Applied Materials and Interfaces.