Video: New robot pulls punches like the mantis shrimp
Marie Donlon | August 27, 2021
Researchers from the Harvard University John A. Paulson School of Engineering and Applied Sciences (SEAS) have developed a robot that mimics the powerful punch of the mantis shrimp.
The strength and speed of the punch, which is reportedly unrivaled in the natural world, is equal to that of a bullet shot from a gun, according to researchers. As such, it is powerful enough to break the arm off of a crab or penetrate the shell of a snail.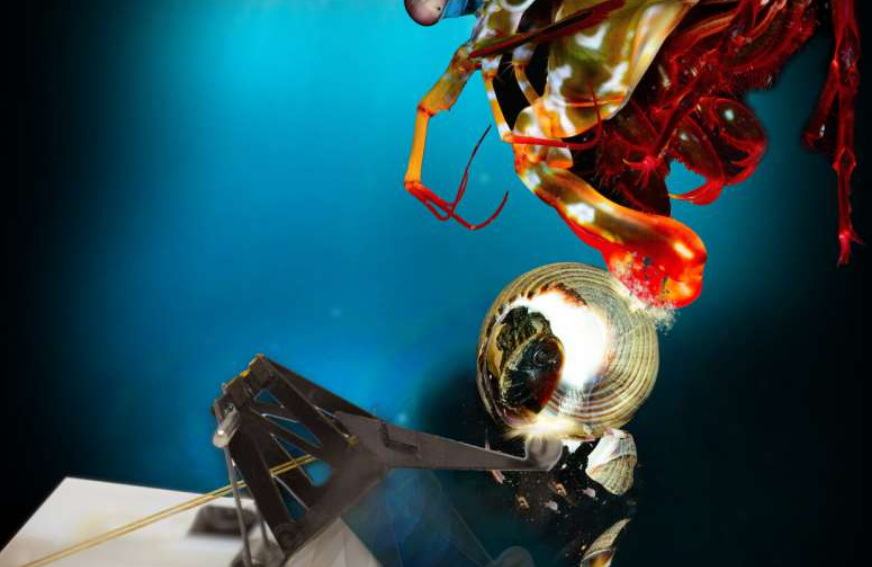 A team modeled the mechanics of the mantis shrimp's punch and built a robot that mimics its movement. Source: Second Bay Studios and Roy Caldwell/Harvard SEAS)
To replicate the speed and force of the mantis shrimp, the SEAS team examined the ultra-fast movements of smaller organisms, like chameleons and frogs, which store elastic energy and quickly release it via a latching mechanism. Similarly, mantis shrimp feature two structures nestled within the tendons of their muscles, which are called sclerites. These reportedly function as the appendage's latch. With a traditional spring-loaded mechanism, when the latch is removed, the spring would instantly release the stored energy. However, when the sclerites unlatch in a mantis shrimp appendage, there is a subtle and slight delay.
"When you look at the striking process on an ultra-high-speed camera, there is a time delay between when the sclerites release and the appendage fires," said Nak-seung Hyun, a postdoctoral fellow at SEAS and co-first author of the paper. "It is as if a mouse triggered a mouse trap but instead of it snapping right away, there was a noticeable delay before it snapped. There is obviously another mechanism holding the appendage in place, but no one has been able to analytically understand how the other mechanism works."
To better understand the mechanics, The SEAS team built a robot model of the mantis shrimp and developed a mathematical model of the movement, mapping the four phases of the mantis strike. The team discovered that once the sclerites unlatch, the appendage is held in place until it achieves an over-centering point where the latch then releases.
"This process controls the release of stored elastic energy and actually enhances the mechanical output of the system," said Emma Steinhardt, a graduate student at SEAS and first author of the paper. "The geometric latching process reveals how organisms generate extremely high acceleration in these short duration movements, like punches."
Watch the accompanying video, which appears courtesy of SEAS, that depicts the process replicated in a 1.5 gram, shrimp-like robot.
Researchers from Ajou University (South Korea), Carnegie Mellon University and Duke University also contributed to the study, A physical model of mantis shrimp for exploring the dynamics of ultrafast systems, which appears in the journal Proceedings of the National Academy of Sciences.