Watch: Autonomous Mayflower sets sail
S. Himmelstein | June 18, 2021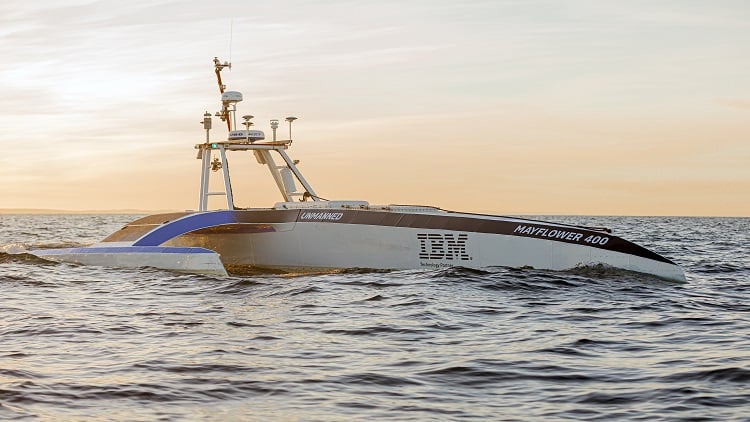 The autonomous ship begins its ocean crossing. Source: IBM
Following the path of the original vessel, which launched from Plymouth, U.K. in 1620, the Mayflower Autonomous Ship has started its trans-Atlantic journey to the "New World."
While the Mayflower of yore transported 102 passengers and a crew of about 30, the autonomous version is unmanned. The research vessel developed by non-profit ProMare, IBM and a global consortium of partners relies on IBM's automation, artificial intelligence (AI) and edge computing technologies to assess its status, environment and mission and make decisions about what to do next while at sea.
The journey across the Atlantic Ocean was initiated following the successful completion of sea trials and is expected to take approximately three weeks. If successful, the trimaran powered by a solar-driven hybrid electric motor is expected to land in Provincetown, Massachusetts, then make its way to the port of Plymouth, Massachusetts.
Designed as a cost-effective and flexible platform for gathering data about the ocean, the Mayflower Autonomous Ship will help scientists collect the data needed to advance understanding of key global issues affecting ocean health including ocean acidification, microplastics and marine mammal conservation. The project will also further the development of fully autonomous AI systems and applications for use in a variety of industries such as shipping, oil and gas, telecommunications, security and defense, fishing and aquaculture.