Beads enveloped in water become hydrobots
Marie Donlon | June 11, 2021
A team of scientists from the City University of Hong Kong in China have developed a device for controlling droplets of water using a piece of magnet.
The new device, dubbed the Hydrobot, uses a small iron bead with a hydrophilic — or water-loving — surface. Once placed in a droplet of water, the 1 mm diameter bead invites water to envelop it. The Hydrobot bead is then placed on a hydrophobic — or water-repelling — surface where researchers have also placed a magnetic piece underneath the surface.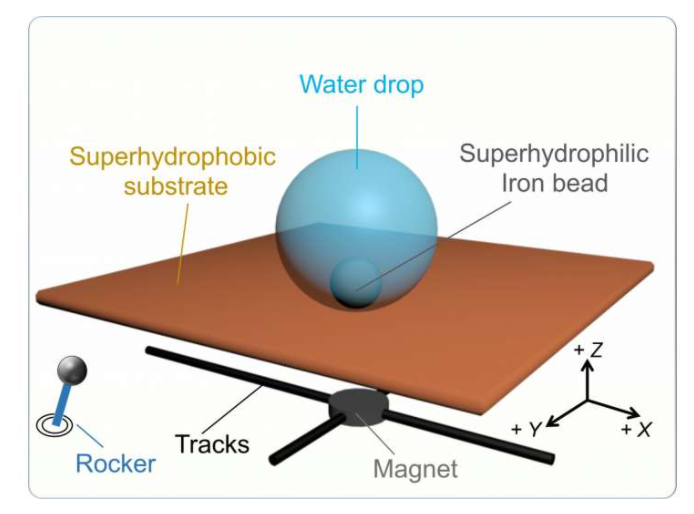 A schematic illustration of magnetically driven Hydrobot on a superhydrophobic surface. Source: Yifan Si
The research team reportedly managed to control the direction of the hydrophilic bead and its accompanying water droplet, moving it in all directions and stopping it on command. According to the team, the Hydrobot bead moved as fast as 2 m/second without losing water.
Additionally, the team determined that all it would take to increase the load-carrying capacity of the bead beyond a droplet of water would be to increase the surface area of the bead. During testing, the team created a 2 mm bead and manipulated it via magnet to control up to 1 mm of water.
"One advantage of Hydrobot is that the materials involved are easily accessible. If a task requires controlling a larger amount of water, we can simply use more beads to increase the surface area," explained Yifan Si, the paper's first author and a postdoctoral fellow at the City University of Hong Kong.
Likewise, the device could reportedly be used upside down — wherein the droplet and the bead were placed beneath the surface and the magnet was placed above the surface — without the droplet succumbing to gravity and falling.
The researchers believe that the Hydrobot bead could be used to clean hard to reach surfaces or to deliver small objects.
The findings were published in the journal Cell Reports Physical Science.