A one-second COVID-19 test
S. Himmelstein | May 23, 2021
Rapid and sensitive testing methods for COVID-19 biomarkers seem to be continually evolving, but this one might be the fastest. A sensor system based on a semiconductor transistor developed by researchers from the University of Florida and Taiwan's National Chiao Tung University returns results within one second, far faster than current COVID-19 detection methods.
The electrochemical device employs antibodies against the SARS‑CoV‑2 spike protein to detect the virus in a saliva sample. Spike protein binding to a gold electrode studded with antibodies will change the electrical charge that runs through it, allowing the device to detect the virus. The entire electrode is included in a single-use test strip that a user links to a circuit board via a connector, and a short electrical test signal gets sent between the gold electrode and another auxiliary electrode. This signal is then returned to the reusable circuit board for analysis.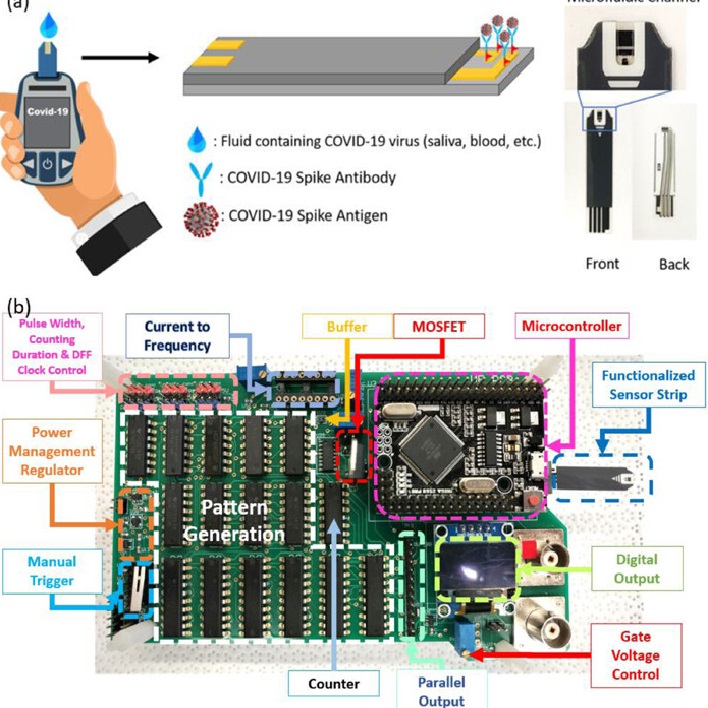 (a) A printed circuit board fabricated to produce digital sensor output with a (b) built-in microcontroller. Source: Minghan Xian et al.
Tests with two different commercially available antibodies demonstrated a limit of detection down to 1 femtogram/ml for a spike peptide and 100 plaque-forming units/ml for an inactivated virus, indicating the potential of the device for point-of-care COVID-19 detection with high sensitivity.
The research is published in the Journal of Vacuum Science & Technology B.