Video: Mammoth 5-axis CNC delivery and unboxing
Kevin J. Harrigan | April 26, 2021
Last week, Titans of CNC, an advanced manufacturing company and vocational academy in Flower Mound, Texas, took delivery of an enormous, 55,000 lb, five-axis CNC machine.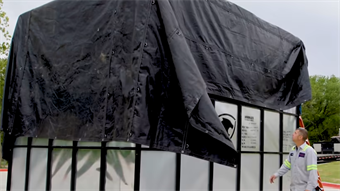 ToCNC Placement Medium ImageTitans of CNC runs an advanced aerospace parts manufacturing facility, and will use the DVF8000T from Doosan Machine Tools to create larger, high precision parts thanks to the machine's large working area. It features 39.4 in x 35.4 in x 27 in of X-Y-Z axis travel, respectively, and a generous 31.5 in table. The large shop includes various other mills, lathes and additional subtractive manufacturing equipment.
Titans of CNC is perhaps best known for its online programming and free CNC training academy. It is part of affable founder Titan Gilroy's long term vision to support domestic manufacturing and education. The former boxer-turned-machinist is a frequent sight at aerospace and defense manufacturing conferences and events.
Part of that commitment is filming the delivery and installation of this gargantuan CNC machine. Gilroy promises to follow up this episode with a startup and demo video.