Bacteria help plants grow without fertilizer
Siobhan Treacy | April 12, 2021
An international group of researchers found that additional enzymes in soil can help even stunted maize varieties grow big and strong without fertilizers.
It is well known that nitrogen is important for plant growth. Farmers can artificially increase the amount of nitrogen in soil with fertilizer, but this can have negative environmental impacts. Fertilizer can be washed off fields and into streams or enter the groundwater. It can also enter the atmosphere as nitrogen oxides or ammonium gas that contribute to the greenhouse effect. The production of nitrogen fertilizers requires a lot of energy. The team wanted to find a way to introduce more nitrogen to plants without the artificial fertilizers.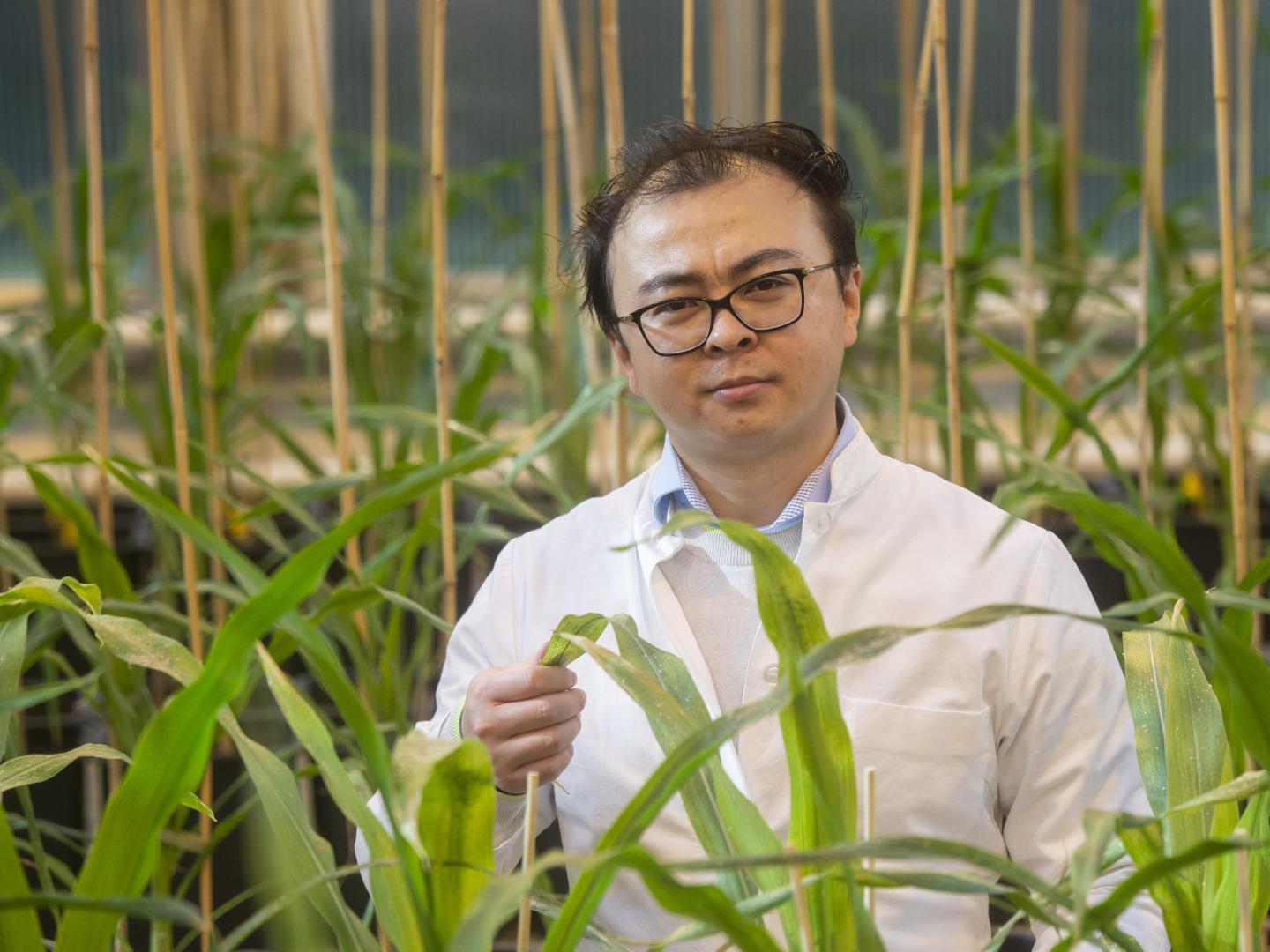 Amid young Maize plants: Dr. Peng Yu from the Institute of Crop Sciences and Resource Conservation (INRES) at the University of Bonn (Germany). Source: Barbara Frommann/University of Bonn
Studying several maize varieties revealed high yields of the enzyme flavone synthase 2 in the roots of the high yield maize inbred line 787. This enzyme creates certain molecules from the flavonoid group and releases them into the soil.
Flavonoids give flowers and fruits their color. In soil, flavonoids causes bacteria to accumulate around the roots. Microbes cause the formation of lateral branches in the roots, and these lateral roots allow the plant to absorb more nitrogen from the environment which enables plants to grow faster, especially when supplies are scarce.
The finding was tested on the maize variety with the abbreviation LH93 which typically produces small plants. LH93 was planted in soil where a high-performance line 787 had previously grown. LH93 grew significantly better in this soil. This phenomenon disappears when the soil was sterilized before repotting. The enriched bacteria in the soil promoted turbo growth.
A second experiment was conducted using a maize variety that cannot form lateral roots due to a mutation. When the soil is supplemented with the bacterium, the roots of the mutant started to branch out. With microbial support, maize coped better with nitrogen deficiency.
This research could help farmers and food producers introduce a new way to encourage plant growth without the harmful chemicals
A paper on this research conducted by scientists from Ghent University (Belgium), China Agricultural University, Leibniz Institute of Plant Genetics and Crop Plant Research (Germany), University of Göttingen (Germany), Christian-Albrecht University of Kiel (Germany), University of Cologne (Germany), Huazhong Agricultural University (China), Southwest University (China) and University of Bonn (Germany) was published in Nature Plants.