The NOTOS 2NSH hygienic twin screw pump by Netzsch
Diana Aoun | April 28, 2021
German pump manufacturer, Netzsch, has expanded its portfolio of hygienic pumps with the new NOTOS 2NSH two-spindle positive displacement pumps. This latest offering showcases a state-of-the art design in a compact, polished, all stainless-steel body. The 2NSH is designed for challenging hygienic applications, operating at high working pressures while maintaining optimum performance and retaining fluid quality.
The standard NOTOS 2NSH model features a round pump housing that demands a smaller footprint, enabling easy installation in tight spaces. The 2NSH is made of AISI 316L stainless steel with polished surfaces (inside and out) in accordance with international standards, thus preventing sticking of the medium and facilitating cleaning and sterilization. Synchronized, helical gears ensure smooth torque transmission with zero contact between the rotating conveying elements, therefore enabling increased pump speeds.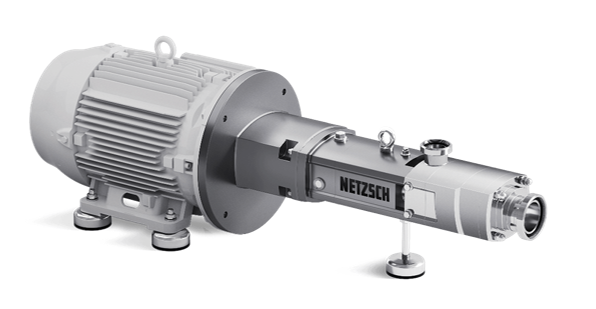 Source: Netzsch
The 2NSH can convey higher viscosity media at high working pressures of up to 16 bar (230 psi) without compromising performance. Media such as chocolate, fruit juices or fruit yogurt can be pumped while retaining consistency and natural properties without any loss of quality. The twin screw pump has a high suction capacity and demands a low NPSH. Smooth feeding of the conveyed media is ensured with low pulsation and flow is reversible when required.
The twin screw pump comes with an optional heating or cooling jacket that can be installed around the entire housing in which the screws are located. An external, independent circuit heats or cools the jacket. This is ideal for applications where the pumped media tends to harden and requires temperature control to guarantee quality.
The NOTOS 2NSH pumps consist of five series of pumps with four different models depending on pressure and bearing sizes. This means there are 20 different pump combinations available to suit a variety of applications and specific operating requirements.