Multitasking catalyst for wastewater treatment and hydrogen evolution
S. Himmelstein | March 19, 2021
A dual-functioning catalyst that degrades drug residues in wastewater and photocatalytically splits water to produce hydrogen has been synthesized by researchers from Sun Yat-sen University, China.
Different conductive components were fused together to form separate supports for each reaction to occur. The components combined were cobalt oxide and titanium dioxide, with an initial focus on coating nanoscale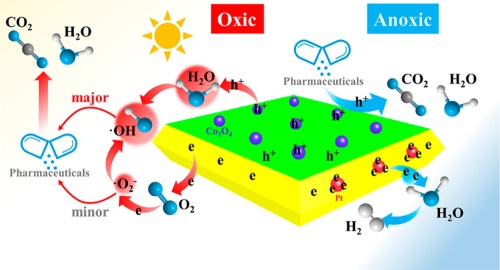 The photocatalyst degrades drug residues in wastewater and splits water to produce hydrogen. Source: Chuanhao Li et al.titanium dioxide crystals with a thin layer of cobalt oxide. This material did not produce an appreciable amount of hydrogen, spurring the researchers to spike the catalyst with 1% by weight of platinum nanoparticles.
When exposed to simulated sunlight, the platinum-impregnated catalyst degraded two antibiotics and generated substantial amounts of hydrogen. Additional tests conducted with real wastewater, river water and deionized water samples demonstrated hydrogen evolution from all sample types, with the greatest amount of hydrogen produced from wastewater.
The catalyst described in ACS ES&T Engineering could offer a novel sustainable wastewater treatment option by generating hydrogen fuel at the same time.