Method streamlines regulatory review of advanced nuclear reactors
S. Himmelstein | March 14, 2021
Progress is being made in the development of smaller, safer nuclear reactors but their deployment will be delayed by time- and cost-intensive licensing processes applied to new reactor design assessments. It typically takes three to six years from the time an applicant submits an initial proposal until approval is received to begin construction, with two to four years of that time allocated to environmental review. A solution has been devised with input from the U.S. Pacific Northwest National Laboratory (PNNL), U.S. Idaho National Laboratory and the National Reactor Innovation Center (NRIC) to save more than a year and millions of dollars in regulatory and vendor costs.
The Plant Parameter Envelopes (PPEs) approach simplifies the environmental analysis required by the 1969 National Environmental Policy Act (NEPA) and reduces the environmental review time to between six and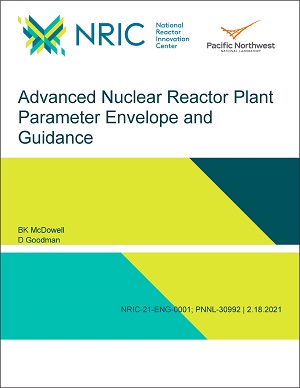 Source: NRICtwenty-four months. The accelerated process uses pre-analyses for the range of impacts of a proposed advanced reactor technology demonstration.
"We're essentially adapting a longstanding PPE concept that the U.S. Nuclear Regulatory Commission has used to efficiently analyze environmental impacts of reactor siting, construction and operation prior to receiving specific applications from reactor vendors," said Dave Goodman, a PNNL environmental planning research analyst.
Data pertinent to advanced reactor designs and plant and site requirements were synthesized to develop a "surrogate" reactor that could be analyzed in a NEPA review to define the upper bound of any potential environmental impacts of an actual reactor siting. The analysis considers reactor size, coolants used and criteria for land use, water demand, transportation, workforce, potential waste, air emissions and fission product inventories.
The PPE process is applied to microreactors up to 60 MW thermal, which may be well suited to power isolated communities or critical infrastructure, and to small- to medium-sized reactors up to 1,000 MW thermal, which is sufficient for urban applications.