E-spool flex cable reel for continuous panel feed in industrial robots
Engineering360 News Desk | February 21, 2021
The e-spool flex 2.0, a new cable reel from Igus that has no slip ring, is perfect for industrial robot users. The design allows for easy management of robot teach pendants and the system even supplies bus signals without interruptions, which can be typical with slip rings.
The solution can extend cables up to 50 ft and is flexible, movable and easily stowed. Installation into a robot's control center is simple with the included mounting hardware. The cable is safely routed through a feed-through to ensure that it is always properly wound. Cable diameters of 5 mm to 15 mm can be used.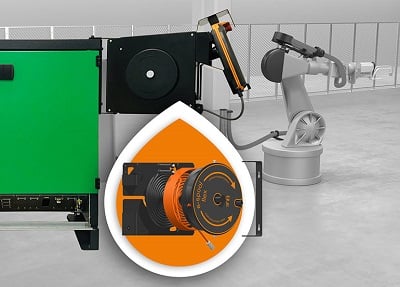 Source: Igus
The unit can be installed on the floor, ceiling or wall and safely guides media power, data or air in one system. The space-saving design includes a locking mechanism on the cable, and is adaptable to technological developments by simply replacing the used cable. The design is also cost-effective in case of repair as it allows for the replacement of individual components.
Other features on the product include a snail mechanism that allows for uninterrupted cable connection and easy insertion of existing cable even when connectors are already attached. The system also has high-transmission reliability and various winding variants.
The e-spool flex 2.0 can be used whenever a cable must be moved freely during use and must be stowed away safely and cleanly after use.