UN report cites aging dams as growing threat
Amy J. Born | February 04, 2021
A new report from the United Nations University Institute on Water, Environment and Health (UNU-INWEH) reveals that a substantial number of large dams around the world are likely showing signs of age. The report states that 58,700 of these dams were built between 1930 and 1970 and have or will soon reach their life expectancy of 50 to 100 years. In particular, large concrete dams would begin to show signs of age at 50 years.
The concern comes from an analysis conducted by UN University which claims that by 2050 a majority of the Earth's population will live downstream of these dams. An estimated volume of 7,000 to 8,300 km3 is stored behind large dams, which is enough to cover 80% of Canada's landmass under a meter of water. An increase in dam failures, higher costs of dam repair and maintenance, increase in reservoir sedimentation, and loss of functionality and effectiveness are all considered signs of aging, according to the paper.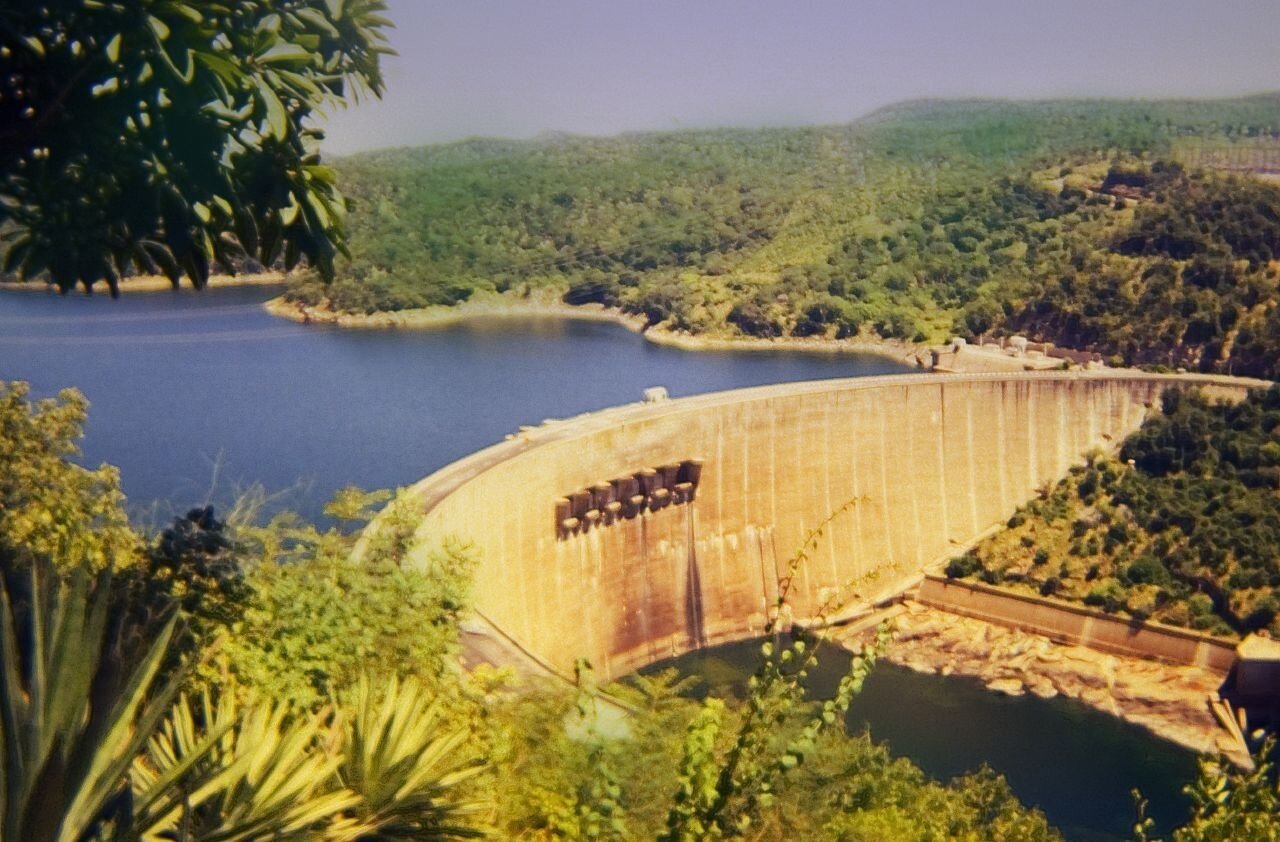 Among the report's case studies: Africa's Kariba Dam, the world's largest man-made reservoir, impounding 181 km³ of water. Source: Rhys Jones
The report predicts that more aging dams will be decommissioned in light of the costs and practicality of upgrading them or if they are no longer needed for their original purpose, despite the fact that if with good design, construction and maintenance, they can reach 100 years of service with no problems.
An overview of dam aging by world region and the dams' primary function (water supply, irrigation, flood control, hydropower or recreation) is included in the report, as well as pros and cons that policymakers need to consider when determining a course of action around restoration or redesign of natural environments. Societal impacts, rising maintenance expenses and declining functionality are all factors that vary greatly between low- and high-income countries.
Climate change is also a factor in how large dams age, according to report co-author Vladimir Smakhtin, director of UNU-INWEH. "Underlined is the fact that the rising frequency and severity of flooding and other extreme environmental events can overwhelm a dam's design limits and accelerate a dam's aging process. Decisions about decommissioning, therefore, need to be taken in the context of a changing climate."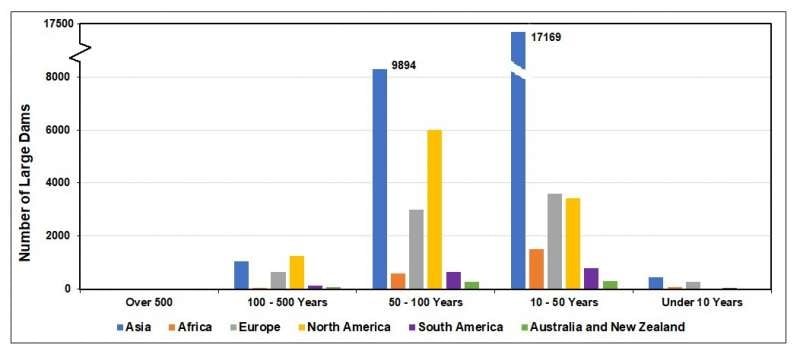 The problem of aging large dams today confronts a relatively small number of countries -- 93% of all the world's large dams are located in just 25 nations, led by China and the U.S. Source: UNU-INWEH
Duminda Perera, lead author and UNU-INWEH senior researcher added that the construction of large dams occurred mainly in the mid-20th century, with its peak in the 1960s and 1970s in Asia, Europe and North America. Africa's dam construction peaked in the 1980s. Almost all of the large dams (93%) in existence are found in only 25 countries.
The report indicates that another surge in dam-building is unlikely due to the fact that almost half the "global river volume is already fragmented or regulated by dams."
Dam decommissioning is driven by rising maintenance costs, reservoir sedimentation, river ecosystem restoration and public safety. "A few case studies of aging and decommissioned large dams illustrate the complexity and length of the process that is often necessary to orchestrate the dam removal safely," said co-author and UNU-INWEH Adjunct Professor R. Allen Curry, based at the University of New Brunswick. To date, mostly small dams have been decommissioned and even those require years and lengthy regulatory review, he added. "With the mass aging of dams well underway, it is important to develop a framework of protocols that will guide and accelerate the dam removal process."
The report recommends viewing dam decommissioning as equal in importance to dam building in terms of the overall planning process for water storage infrastructure developments and that the experiences of dam decommissioning be shared in order to properly manage aging water storage infrastructure.