Solar-powered pumped hydro project planned for Hawaii
S. Himmelstein | January 20, 2021
Kauai Island Utility Cooperative (KIUC) and AES Corp. have executed and filed a power purchase agreement with Hawaii regulators to develop a solar-powered pumped hydro storage project the utility says will bring its total resource mix above 80% renewables.
The West Kauai Energy Project, which could be operational by 2024, will include a solar array capable of sending 35 MW directly to the island's grid and an associated battery to store up to 240 MWh for dispatch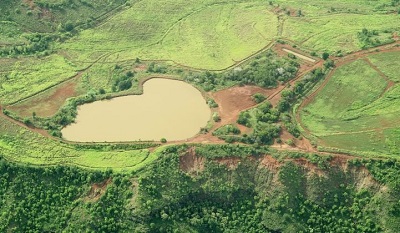 An existing reservoir could become part of the solar-powered grid storage system on Kauai. Source: KIUCduring evening peak. The hydro resources are expected to produce 24 MW on average daily, including 12 hours of storage to be used overnight.
AES plans to refurbish a series of three existing reservoirs in the mountains of West Kauai. A field of solar panels in the lowlands will provide power to pump water from lower elevation to higher elevation, thereby charging the system. That water will then be released to flow through two hydropower systems, one with 4 MW and the other with 20 MW of generation capacity, converting that stored energy back to electricity.
The project will meet about 25% of the island's electricity needs and puts it on track to exceed the utility's target of reaching 70% renewable generation by 2030. The scheme will offset the use of 8.5 million gallons of fossil fuels annually, potentially saving customers more than $170 million over the 25-year power purchase agreement, and will supply irrigation water delivery to support diversified agriculture on state lands.
KIUC has completed two solar-plus-storage renewable projects in partnership with AES: a 20-MW facility in Lāwa'i and a 14-MW facility at the Pacific Missile Range Facility. AES has more than 200 MW of solar, solar plus storage, and wind resources in operation or under development across Hawaii.